GoPro is a renowned brand in the world of action cameras and adventure photography.
Founded in 2002 by Nick Woodman, GoPro has revolutionized the way people capture and share their experiences.
The company's mission is to enable individuals to capture and relive their most exciting moments, whether it be surfing massive waves, scaling towering mountains, or simply enjoying life's everyday adventures.
Here is a list of the top 10 largest GoPro shareholders as of 9/14/2023.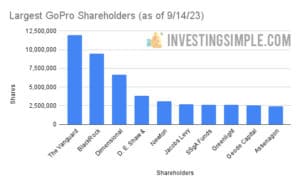 Best Free Stock Promotion
1. The Vanguard Group Inc
Ownership: 9.26%
Shares Held: 11,987,465
2. BlackRock Fund Advisors
Ownership: 7.32%
Shares Held: 9,470,812
3. Dimensional Fund Advisors LP
Ownership: 5.14%
Shares Held: 6,648,105
4. D. E. Shaw & Co LP
Ownership: 2.96%
Shares Held: 3,826,661
5. Newton Investment Management
Ownership: 2.37%
Shares Held: 3,067,206
6. Jacobs Levy Equity Management
Ownership: 2.08%
Shares Held: 2,685,299
7. SSGA Funds Management Inc
Ownership: 2.05%
Shares Held: 2,647,201
8. Greenlight Capital Inc
Ownership: 2.01%
Shares Held: 2,597,900
9. Geode Capital Management LLC
Ownership: 2.00%
Shares Held: 2,585,798
10. Assenagon Asset Management SA
Ownership: 1.89%
Shares Held: 2,447,524
Click here to check the current Share Price of GoPro (GPRO) on Robinhood!
What Is GoPro?

GoPro is a popular brand of action cameras and related accessories that are designed for capturing high-quality, immersive, and adventurous footage in various outdoor and action-oriented settings.
These cameras are known for their compact and durable design, making them suitable for activities like sports, outdoor adventures, and extreme sports.
Key features of GoPro cameras typically include:
Compact and rugged design: GoPro cameras are small, lightweight, and built to withstand tough conditions, including water, dust, and shock. They are often used in environments where traditional cameras would be impractical or fragile.
High-quality video and photo capabilities: GoPro cameras are capable of capturing high-resolution videos and photos, with features like 4K video recording, high frame rates for slow-motion footage, and wide-angle lenses for capturing wide vistas.
Wide range of accessories: GoPro offers a variety of mounts, cases, and accessories that allow users to attach the camera to helmets, bicycles, surfboards, drones, and more, making it versatile for different activities.
Waterproofing: Many GoPro models are waterproof without the need for an additional housing, which is ideal for underwater adventures like snorkeling and diving.
App integration: GoPro cameras are often compatible with smartphone apps that enable users to control the camera remotely, view and edit footage, and share it on social media platforms.
Stabilization technology: GoPro cameras often feature built-in or software-based stabilization to reduce shakiness in footage, resulting in smoother and more professional-looking videos.
Voice control: Some GoPro models allow users to control the camera using voice commands, which can be particularly useful in situations where hands-free operation is necessary.
GoPro has gained popularity among outdoor enthusiasts, athletes, vloggers, and filmmakers for its ability to capture dynamic and immersive footage in a wide range of challenging environments.
The company has released several generations of cameras, with each iteration typically offering improved features and capabilities.
Conclusion
These top GoPro shareholders are a mix of institutional investors, investment management firms, and asset managers.
Together, they own a significant portion of the company and have a significant influence on its operations and strategic decisions.