Netflix is a global entertainment powerhouse that has revolutionized the way we consume and enjoy television shows and movies.
Founded in 1997 by Reed Hastings and Marc Randolph, Netflix began as a DVD-by-mail rental service before boldly transitioning into the world of online streaming.
Today, it stands as one of the most recognizable and influential streaming platforms worldwide.
Here is a list of the top 10 Netflix shareholders as of 9/9/2023.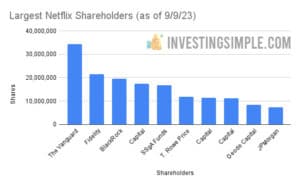 Best Free Stock Promotion
1. The Vanguard Group
Ownership: 7.75%
Shares Held: 34,332,093
2. Fidelity Management & Research
Ownership: 4.85%
Shares Held: 21,478,969
3. BlackRock Fund Advisors
Ownership: 4.40%
Shares Held: 19,486,845
4. Capital Research & Management
Ownership: 3.94%
Shares Held: 17,479,045
5. SSgA Funds Management
Ownership: 3.77%
Shares Held: 16,699,906
6. T. Rowe Price Associates
Ownership: 2.66%
Shares Held: 11,778,954
7. Capital Research & Management (World Investors)
Ownership: 2.58%
Shares Held: 11,431,257
8. Capital Research & Management (International Investors)
Ownership: 2.52%
Shares Held: 11,167,223
9. Geode Capital Management
Ownership: 1.89%
Shares Held: 8,390,820
10. JPMorgan Investment Management
Ownership: 1.66%
Shares Held: 7,373,438
Click here to check the current Share Price of Netflix (NFLX) on Robinhood!
What Is Netflix?

Netflix, Inc. is a multinational entertainment and media streaming service company.
Founded on August 29, 1997, by Reed Hastings and Marc Randolph in Scotts Valley, California, Netflix started as a DVD-by-mail rental service.
However, it is now best known for its subscription-based streaming service that allows users to watch a vast library of movies, TV shows, documentaries, and other forms of entertainment content via the internet.
Key aspects of Netflix include:
Streaming Service: Netflix offers a subscription-based streaming service that allows users to watch a wide variety of content, including movies, TV series, documentaries, and original programming. Users can stream content on various devices, including smartphones, tablets, smart TVs, and computers.
Original Content: Netflix has invested heavily in producing its own original content, often referred to as "Netflix Originals." These include critically acclaimed series like "Stranger Things," "The Crown," "House of Cards," and numerous original films, documentaries, and comedy specials.
Global Reach: Netflix is available in over 190 countries and has a global subscriber base, making it one of the most widely used streaming platforms worldwide.
Personalized Recommendations: The platform uses algorithms and user data to offer personalized recommendations, helping users discover new content tailored to their interests.
Ad-Free: Netflix is ad-free, meaning subscribers can watch content without interruptions from advertisements.
Offline Viewing: Netflix allows users to download select content for offline viewing, which is particularly useful for watching content while traveling or in areas with limited internet connectivity.
Multiple Subscription Plans: Netflix offers different subscription tiers, allowing users to choose between various price points and video quality options.
Expanding Content Library: Netflix continually adds new content to its library, including licensed movies and TV shows from various studios and networks.
Netflix played a significant role in revolutionizing the way people consume entertainment by popularizing the concept of on-demand streaming. It has also disrupted traditional television and film distribution models.
Conclusion
These top NFLX shareholders are a mix of institutional investors, investment management firms, and asset managers.
Together, they own a significant portion of the company and have a significant influence on its operations and strategic decisions.