Starbucks, a renowned global coffeehouse chain, has become an iconic brand synonymous with quality coffee, a welcoming ambiance, and a commitment to customer satisfaction.
Established in 1971 in Seattle, Washington, by three partners who shared a passion for the art of roasting and brewing exceptional coffee, Starbucks has grown into an international phenomenon.
Here is a list of the top 10 Starbucks shareholders as of 9/13/2023.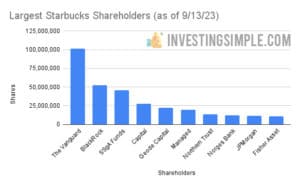 Best Free Stock Promotions
1. The Vanguard Group Inc
Ownership: 8.88%
Shares Held: 101,743,464
2. BlackRock Fund Advisors
Ownership: 4.56%
Shares Held: 52,295,449
3. SSGA Funds Management Inc
Ownership: 3.98%
Shares Held: 45,619,709
4. Capital Research Management Co
Ownership: 2.39%
Shares Held: 27,368,437
5. Geode Capital Management LLC
Ownership: 1.92%
Shares Held: 21,952,821
6. Managed Account Advisors LLC
Ownership: 1.70%
Shares Held: 19,428,018
7. Northern Trust Investments Inc
Ownership: 1.20%
Shares Held: 13,723,930
8. Norges Bank Investment Management
Ownership: 1.08%
Shares Held: 12,327,931
9. JPMorgan Investment Management
Ownership: 0.99%
Shares Held: 11,302,537
10. Fisher Asset Management LLC
Ownership: 0.95%
Shares Held: 10,873,143
Click here to check the current Share Price of Starbucks (SBUX) on Robinhood!
What Is Starbucks?

Starbucks is a multinational coffeehouse chain and coffee company that is well-known for its specialty coffee beverages, pastries, and a cozy café atmosphere. The company was founded in 1971 in Seattle, Washington, by three partners: Jerry Baldwin, Zev Siegl, and Gordon Bowker.
Over the years, Starbucks has grown into one of the world's most recognizable and prominent coffee brands.
Starbucks is known for its wide range of coffee offerings, including espresso-based drinks like lattes, cappuccinos, and macchiatos, as well as brewed coffee, iced coffee, and various tea beverages. They also serve a variety of food items, such as sandwiches, pastries, and snacks.
One of the distinctive features of Starbucks is its commitment to providing a unique and comfortable in-store experience. Many Starbucks locations offer free Wi-Fi, comfortable seating, and a welcoming environment for customers to relax, work, or socialize.
Starbucks has also become known for its seasonal and limited-time specialty drinks, often tied to holidays or cultural events.
Starbucks has expanded globally and has thousands of locations in countries around the world, making it one of the largest coffee chains globally. In addition to its retail locations, Starbucks also sells its coffee products in grocery stores and online, and it has a loyalty program called Starbucks Rewards, which offers various benefits to frequent customers.
The brand has also made efforts to be environmentally conscious, such as promoting reusable cups and implementing sustainable practices in its supply chain.
Conclusion
These top shareholders in Starbucks are a mix of institutional investors, investment management firms, and asset managers.
Together, they own a significant portion of the company and have a significant influence on its operations and strategic decisions.