Sundial Growers Inc. (NASDAQ: SNDL) is a Canadian cannabis company that operates in the legal cannabis industry.
Founded in 2006, Sundial focuses on the cultivation, production, and distribution of high-quality cannabis products for both the medical and recreational markets.
Here is a list of the 10 largest SNDL shareholders as of 9/14/2023.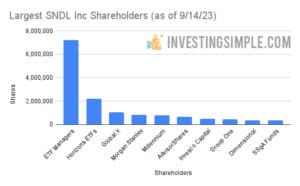 Best Free Stock Promotions
1. ETF Managers Group LLC
Ownership: 2.77%
Shares Held: 7,217,582
2. Horizons ETFs Management Canada
Ownership: 0.84%
Shares Held: 2,198,135
3. Global X Management Co LLC
Ownership: 0.40%
Shares Held: 1,050,821
4. Morgan Stanley Co LLC
Ownership: 0.31%
Shares Held: 813,902
5. Millennium Management LLC
Ownership: 0.30%
Shares Held: 776,886
6. AdvisorShares Investments LLC
Ownership: 0.24%
Shares Held: 628,360
7. Invesco Capital Management LLC
Ownership: 0.19%
Shares Held: 493,561
8. Group One Trading LP
Ownership: 0.17%
Shares Held: 429,057
9. Dimensional Fund Advisors LP
Ownership: 0.14%
Shares Held: 356,139
10. SSGA Funds Management Inc
Ownership: 0.13%
Shares Held: 339,123
Click here to check the current Share Price of Sundial Grower Inc. (SDNL) on Robinhood!
What Is Sundial Growers?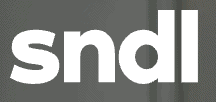 Sundial Growers is known for its various cannabis brands and product lines, including flower, pre-rolls, oils, and capsules.
Like many companies in the cannabis industry, Sundial was impacted by the changing legal landscape and market dynamics in Canada and other regions where cannabis has become legal for medical and recreational use.
Conclusion
These top shareholders in Sundial Grower Inc. are a mix of institutional investors, investment management firms, and asset managers.
Together, they own a significant portion of the company and have a significant influence on its operations and strategic decisions.