M1 Finance is a popular investment app that calls itself the Finance Super App and for a good reason. This app offers features from investing, spending, and borrowing. This all-in-one app can be utilized for a number of things to enhance the financial lives of its users.
However, does this app offer paper trading? This is the question that this article will aim to answer. Before we get too deep into the weeds with paper trading, let's first understand what M1 Finance is and how it differentiates itself from other personal finance apps.
What is M1 Finance?
M1 Finance was founded in 2015 and has since grown its platform to over 500K users and more than $2B in assets under management. That is quite the accomplishment in just five years. For comparison, Robinhood, arguably the most popular investing app has racked up a total of 13M users.
M1 Finance's philosophy is to make investing more accessible to the average Joe. Specifically, M1 believes that anyone is capable of reaching their goals through low-cost long-term investing. The platform is tailored specifically to long-term investors and provides complete transparency.
Paper Trading on M1 Finance
Paper trading, or stock simulation, is a feature offered by some investment platforms wherein users can trade, speculate, and risk it all – with fake money. That's right, there is no actual money involved in the use of paper trading.
This use of paper trading, on most platforms, will look identical to their actual trading platform. This is to allow users to become intimately familiar with the platform and how it will work once real money is involved. By doing this, there will be no surprises when users actually deposit their own cash.
Unfortunately, M1 Finance does not offer paper trading. This is most likely due to its belief in long-term investing over short-term or day trading, which is popular for paper trading users. While M1 Finance does not offer this feature, it is still wildly important to understand how the stock market works and how to invest properly before diving in.
Of course, the adage 'Practice makes permanent' still applies for investing. Whenever using paper trading or stock simulation, it is important to act like you would in an actual investing scenario. The purpose is for the platform and the markets to teach, and for the user to learn. There is no advantage to the platform if users use it recklessly and don't actually gain any investing skills from it's use.
What does M1 Finance Cost?
M1 Finance is free for all who want to use the basic account features. However, M1 Finance also offers a premium package called M1 Plus. This comes at a price tag of $125 per year. While this may be costly for some, M1 Plus comes with many benefits that might make that extra $125 worth it.
For investing, the additional $125 allows users to trade during a morning and afternoon window. The Plus account also comes with a smart transfer feature which triggers the transfer of funds into and out of the account based on certain events instead of calendar days.
With borrowing, M1 Finance Plus users are able to borrow at a much lower rate than standard. Approximately 150 basis points lower in fact.
For M1 Finance spending, the features really explode for plus users. Plus users can receive 1% APY on a checking account, 1% cash back on purchases, 4 free ATM withdrawals, an ACH limit of $50K, and zero international fees. These exciting upgrades could absolutely cover the $125 that it costs to be a Plus member on an annual basis.
M1 Finance Investing
M1 Finance is a platform used by over half a million investors who have invested over $2 billion on the platform. The platform's main focus is to help investors get ahead by offering stellar products in three categories: Investing, Borrowing, and Spending. Since this article is dedicated to Paper Trading, we will focus on M1 Finance's Investing features. For a full review, feel free to continue reading.
M1 Finance Investing Features
This platform differentiates itself by allowing its users to create their own custom portfolios for both brokerage and retirement accounts.
In these custom portfolios, known to M1 Finance users as Pies, users can specify the exact percentage of each portfolio to go toward each company. For example, for an eCommerce Pie, you could direct 25% to Amazon, 25% to Walmart, 30% to Wayfair, and 20% to Chewy.
If this really isn't your style, M1 Finance also offers over 30 expert-built portfolios. Notice that M1 Finance is more for medium- to long-term investing due to the 1-2 trading windows per day.
By paying the $125 and signing up for the M1 Plus account, you can trade in both the morning and afternoon starting at 9:30am EST and 3:00pm EST.
Important Features of M1 Finance Investing
Before we move onto spending and borrowing, M1 Finance has interesting features that are important to know. M1 Finance does have account minimums of $100 for brokerage accounts and $500 for retirement accounts. While this may be an obstacle for some, it does offer fractional shares and has zero commissions on trades.
This platform also offers automatic account rebalancing so that your pre-set allocations stay the same over time. In addition, M1 Finance also offers a Dividend Reinvestment Program (DRIP) so that your money can keep churning out more dollars.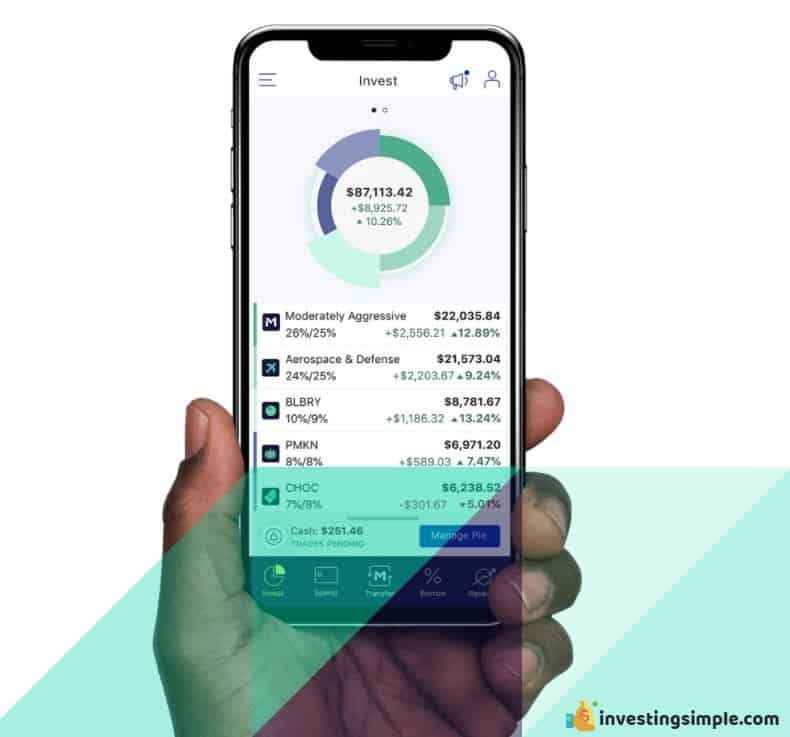 Conclusion: Paper Trading on M1 Finance
While M1 Finance does not offer paper trading, that does not mean it is automatically disqualified from discussion. This is an incredible app that over half a million users rave about. Its one-of-a-kind features like custom built pies certainly make it stand out from the crowd. Investors who prefer investing for the long-term and understand the value of buy and hold stocks, will gain the most from using this platform.
As mentioned previously, if you are interested in short-term investing such as swing trading and day trading, it might make more sense to look elsewhere. However, it is important to remember that M1 Finance offers additional features such as spending and borrowing accounts which might make M1 Finance an appealing option. Even for day traders.
Best Free Stock Promotions