If you're trying to earn passive income, there's a lot of bad advice out there.
The internet will tell you that filling out surveys online is a good way to earn passive income.
So we're gonna cut the B.S. and cover 5 actual ideas for passive income that work.
Keep on reading, or watch my video on this topic below.
Don't forget to grab your free stock worth up to $200 from Robinhood today!
About the Author
Ryan Scribner is the author of From Side Hustle To Main Hustle To Millionaire - a practical guidebook on launching your own side hustle. He is recognized as a Top 100 Money Expert by GoBankingRates.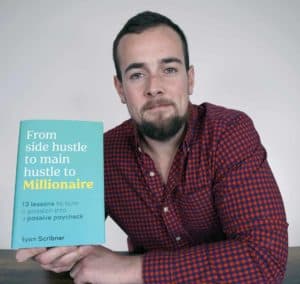 Ryan runs a successful YouTube channel focused on money and investing, which he started in 2016. He also owns a portfolio of digital business, all earning passive recurring revenues.
Now, Ryan teaches others how to create additional income streams.
1. HYSA
Well the best source of passive income right now, in my opinion of course, is a High Yield Savings account.
We're in a completely different interest rate environment, so this has now become one of the best options you have for risk free interest income.
Right now, you can earn up to a 4.95% APY with Platinum Savings through CIT Bank, for example.
Just to convey how insane that is, the current dividend yield on Coca Cola - a popular dividend stock - is just under 3%. And over the last year, this stock has returned just under 1% in gains.
Now rates are higher than when they were a year ago, but it's pretty wild that a high yield savings account could potentially outperform a blue chip stock.
Not to mention, if there's a sharp decline in stocks, this won't impact your savings account.
On a $10,000 balance, a rate of 4.95% would make you $495 in annual interest, or $41.25 in monthly interest - just for parking your cash.
2. CDs
Now the next form of passive income is in the same vertical, it's a different product offered at banks called a Certificate of Deposit.
This is like a savings account where you have to keep your money in for a set period of time, referred to as the term.
You can earn an extra half-percent or so if you have the minimum to open the CD and are willing to park your cash for the duration.
Let's move on from the bank now and into our next passive income idea.
3. Selling Leads
If you're interested in making money from your computer, selling leads to local businesses can actually earn you passive income.
That's because you can automate this using paid ads and other forms of hands off marketing.
Most service-based business owners are good at doing one thing, the service. All you have to do is create an agreement with a local contractor, like a power washer.
Then, you can leverage free forms of marketing first, like Craigslist, Marketplace and more.
You could negotiate it so that you earn a set dollar amount per lead, or a commission on the total job.
This may sound like it would be difficult, but marketing is such a pain point for many contractors. So I encourage you to make some calls.
Let's say you spend $5 a day on local ads for power washing quotes. If that gave you just 1 lead a day, and you could turn around and sell it for $10 or $20, you'd have a money printing machine.
You could then repeat this for various services within your local area.
4. Affiliate Reviews
This next idea is one of the OG passive income ideas that still works.
By creating simple product review videos and linking to Amazon, you can create mini passive income machines.
For example, I made a video talking about the Amazon Blink Cameras which has gotten 78,000 views.
This resulted in just under $9,300 in sales of that Camera for Amazon in 2023 alone. Now the commission earned is a lot less.
Amazon pays a 4% commission on Cloud Cameras, so I've earned $370.63 so far this year.
Now I've also earned ad revenue, a total of $804.24 so far this year.
So this 1 video has made me about $1,175 or about $6.84 a day.
Now you do need to be strategic with videos and do reviews of products with high commissions. But overall, this is a proven strategy that still clearly works.
The last idea taps into the sharing economy, with a unique twist on it.
By now, everyone is familiar with Airbnb. But there's also a platform RV Share where you can rent out a camper directly from a local owner.
Based on the current economy we're in, a lot of people are unloading campers at rock bottom prices - as these are a want and not a need.
But plenty of people are still looking to rent them for the experience.
RV Share reports that owners who list their rigs make $10,000 to $40,000 a year on average. So you could get started with 1 camper, wait for it to pay for itself, get another and so on.
Now there will be some time involved with bookings and turnover, but you could always hire this out or partner up with a local auto detailer.
Final Thoughts
At the end of the day, there are numerous ways to earn passive income that actually work.
For the 1% who are ready to take their side hustle journey a bit more seriously, I wrote a book about side hustles.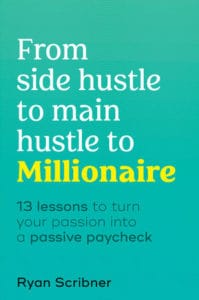 It covers all phases of the side hustle journey, and you get access to a members only discord where you can ask me questions along the way.
And you can grab a copy in person at most Barnes and Noble stores across the United states, or it's right on Amazon.
So grab a copy today and let's get started on your side hustle journey together!