Print on demand is one of the easiest side hustles to get started with right now.
If you've been looking for a tutorial on how it works, I'll be showing you, step by step, how to launch this hustle.
Keep on reading, or watch my YouTube video on this topic below.
Don't forget to grab your free stock worth up to $200 from Robinhood today!
About the Author
Ryan Scribner is the author of From Side Hustle To Main Hustle To Millionaire - a practical guidebook on launching your own side hustle. He is recognized as a Top 100 Money Expert by GoBankingRates.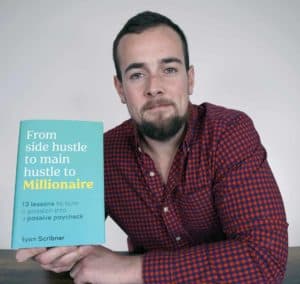 Ryan runs a successful YouTube channel focused on money and investing, which he started in 2016. He also owns a portfolio of digital business, all earning passive recurring revenues.
Now, Ryan teaches others how to create additional income streams.
What Is Print On Demand?
So first of all, let's define what print on demand means.
In the past, starting a merch business meant creating designs with expensive software, sending them to a local print shop and ordering items in bulk.
With Print on Demand, the merchandise is printed as the orders come in, and in the case of Printful, they take care of the order fulfillment too.
This means you can test designs at no cost and always have the sizing people are looking for right then and there.
So before we dive into the ins and outs of launching this side hustle, let me tell you more about Printful.

What Is Printful?
Printful is a digital platform for creating your own online merch store, and they offer various services to support aspiring entrepreneurs.
Unlike most ecommerce platforms out there, It is completely free to get started with Printful. There are no setup costs, minimums, or monthly fees.
Printul gets paid once orders are actually placed, meaning you can try it yourself today with no cost.
Whenever someone makes a purchase, Printful receives the order, fulfills it, and ships it.
Printful has a suite of powerful tools to run anything from a $100 a month t-shirt shop to a $10M clothing brand.
Best Print On Demand Niche's
So now that you understand how Print on Demand works, you can appreciate just how simple it is.
It's really just a matter of getting your designs, creating your store and marketing it through various avenues.
Now, let's dive into a few of the best Niche's you can get into with this side hustle, as well as various marketing strategies for them.
1. "Hometown" Pride
The first category is what I call "hometown pride." This is merchandise related to your local area.
This could also be as simple as the name of your hometown on merchandise, so don't feel like you have to reinvent the wheel.
Merch related to these tourism draws sells like crazy all Summer long, so you could simply find out what things like this exist in your local area.
2. Cause-Focused
The next niche involves building a movement or a cause around your brand. It could be as simple as picking your favorite charity, and donating a set dollar amount for every sale.
People want to make a difference with their purchases, and you can accomplish this.
Maybe it's the local bee population in your area that you're concerned about. You could make merch about saving the bees in your hometown area, and then donate a portion of your proceeds to beekeepers.
Not only are your customers spreading awareness, they're also indirectly making a donation to help the cause. A website showcasing all of this would be a great idea too.
3. Your Pet
The only thing pet lovers care about more than animals is their own pets. You could use Printful, for example, and take photos of people's pets sent to you and build a store of merchandise for them to choose from.
And this could involve removing other members of the family from the background, meaning there's a little skill involved. That means most people won't attempt it themselves.
This is especially popular around the holiday season, so keep this idea in the back of your mind for later in the year.
4. Farmers Market
One of the most popular models for merch sales today is a hybrid of in-person sales as well as print on demand.
Farmers markets are a great place to showcase your designs and spread awareness about your business.
And if you don't want to deal with inventory, you could simply display your items at your booth and direct customers to your Printful online catalog to buy.
5. Pop Culture & Memes
While these are often trendy, if you are quick - which you can be with Print on Demand - you can capitalize on these fads.
You can even design these right on Printful using their Design Maker tool.
We've talked about social media ads and in person efforts as methods for marketing your hustle. But with this niche, influencer marketing often works well.
So what you could do here is jump on the next internet trend, create merch around the fad and then spend some money running paid promotions on Instagram meme pages.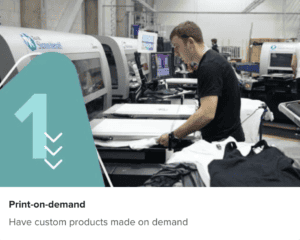 How To Get Started With Print On Demand
When you're ready to get started with Print on Demand, here's a few important steps.
1. Products
First, you should familiarize yourself with the products you can sell.
In the case of Printful, they offer clothing for men, women and kids sizes as well as accessories and items for your home.
2. Techniques
Next, it's important to consider the designs available. Printful offers multiple customization techniques, which can allow your products to stand out from the others.
With DTG or "direct to garment" printing, your design is printed directly onto the garment. You can customize clothing, like t-shirts, hoodies, and sweatshirts with all sorts of colored prints.
All-over prints mean your design covers the product seam-to-seam.
Sublimation means your design covers all of the product. This is just like the all-over prints, but the product is a phone case or mug, for example.
In addition, Printful also offers embroidery should you want a textured design.
3. Store
Once you know what kinds of products you want to sell, and which design styles, it's time to build your online store.
Now you can use platforms like Shopify that directly integrate with Printful. Or, you can create your own online catalog and refer your customers to your Printful store.
All you have to do is sign up for Printful for free, pick the products you want to sell, upload your designs or create your own designs using the built-in Design Maker.
Final Thoughts
So guys I hope this sheds some light on just how easy it is to get started with the Print on Demand side hustle.
There's not many side hustles out there that you can start with no costs, but this is definitely one of them. All you really have to venture here is your time, so it's definitely worth giving it a shot.
For the 1% who are ready to take their side hustle journey a bit more seriously, I wrote a book about side hustles.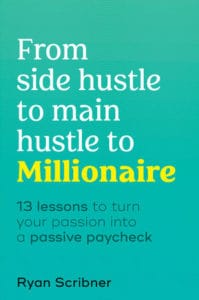 It covers all phases of the side hustle journey, and you get access to a members only discord where you can ask me questions along the way.
And you can grab a copy in person at most Barnes and Noble stores across the United states, or it's right on Amazon.
So grab a copy today and let's get started on your side hustle journey together!