On December 13th, Robinhood went viral. Most of us know Robinhood as the commission free brokerage account we can use to buy and sell stocks for free. All of the sudden, they were rebranding themselves as a 3% interest bank account!
For those who don't know the difference, a bank account is a place to store your money. Typically, this is with a checking or a savings account. A brokerage account on the other hand is totally different. This is an account where you can buy and sell securities like stocks and bonds. Fundamentally, they are entirely different financial services.
Here is the email Robinhood sent out to users of the platform…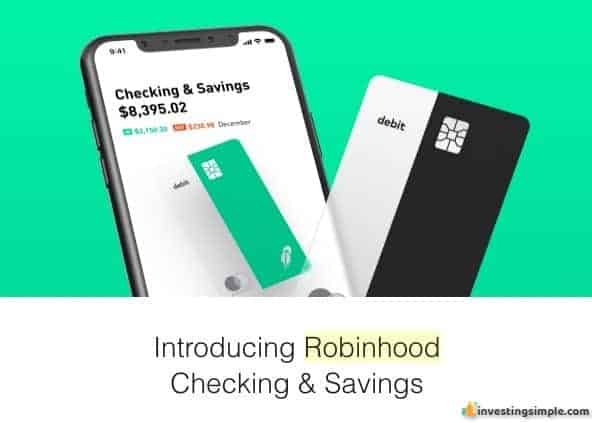 Within the email, this is what they laid out…
Earn 3% on Your Money 
You'll earn 3% on all the money in your checking AND savings every year. That's a free $240 every year for the average American family with $8,000 in the bank. 
No Fees, No Commitments 
Say goodbye to the sneaky fees big banks charge. Robinhood Checking & Savings has no minimums, no monthly fees, no overdraft fees, and no foreign fees. Fee free, for real. 
Access 75,000 free ATMs 
Access more free ATMs than with the 5 largest banks combined. Search for the nearest ATM in the app, or drop into your local 7-11, Target, Walgreens, or Costco. Cha-ching. 
All in one app 
Invest, manage your money, deposit checks, get 24/7 customer support, and more—all on the Robinhood app. 
Supplies are limited. Update to the latest version of the Robinhood app to get early access. 
It is important to note that since the circulation of this email, Robinhood has completely rebranded the service and removed all mentions of Robinhood Checking & Savings from social media. Emails, however, live on forever.
This leaves us with a number of questions. Why did Robinhood rebrand the service to Robinhood Cash Management? What was all the backlash over? Is a 3% checking account actually possible? Let's go ahead and answer…
Robinhood 3% Checking Offer
After you clicked the email and opted in to get early access, you were added to a waiting list to get access to Robinhood Checking & Savings. Personally, I was 546,624 on that list.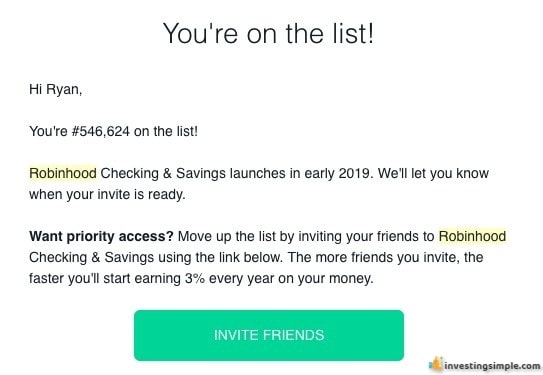 Based on the initial claims from Robinhood, they were offering a 3% yield checking and savings account that was SIPC insured. Don't worry, we will get to that later…
Typical banks are FDIC insured. The Federal Deposit Insurance Corporation is an independent agency that protects you against the loss of your insured deposits. If a bank goes insolvent and they are unable to return your deposit, you are covered by FDIC insurance. FDIC covers you on bank products like checking accounts, savings accounts and CDs up to $250,000.
SIPC insurance is entirely different. The Securities Investor Protection Corporation protects against the loss of cash and securities, such as stocks and bonds, held by a SIPC member brokerage firm. The limit of SIPC protection is $500,000, which includes a $250,000 limit for cash.
Check out this video by Graham Stephan for a great explanation…
Robinhood was aiming to offer bank accounts covered under SIPC. Since they are a brokerage firm, they believed that the cash held in customer accounts would be covered by SIPC. Turns out, they were wrong about that one… 24 hours later, the SIPC came out with a statement regarding the Robinhood 3% SIPC insured bank accounts.
"SIPC protects cash that is deposited with a brokerage firm for one limited purpose … the purpose of purchasing securities," according to a statement from SIPC President and CEO Stephen Harbeck. "Cash deposited for other reasons would not be protected," he said in the statement. "SIPC does not protect checking and savings accounts since the money has not been deposited for a protected purpose." – USA Today
The bottom line here is that Robinhood was looking to insure customer accounts through SIPC by using what they thought was a loophole. Since Robinhood is a brokerage firm, it seemed feasible to them that these funds would be protected under SIPC. What they missed was the fact that SIPC only protects cash deposits for the purpose of purchasing securities. These advertised Robinhood Checking & Savings account were not designed for the purchasing of securities. Based on that distinction, these accounts were not eligible for SIPC insurance.
Now, before you begin to panic and transfer your securities out of your Robinhood account it is important to note that your brokerage account with them is SIPC insured. This account is designed for the purpose of purchasing securities. The cash and securities are insured in the instance that Robinhood goes insolvent. If they lose your cash or securities, you are covered within the limits of SIPC.
So, the party is over for Robinhood. Without SIPC insurance, putting your hard earned cash into a Robinhood Checking or Savings account is extremely risky. If they ended up losing that money and going insolvent, you are out of the money.
As mentioned earlier, Robinhood has now removed all traces of the 3% bank accounts and replaced it with the label of Robinhood Cash Management. There is no information on the site other than this banner.

Robinhood struck a chord with a lot of people who are fed up with the paltry rates offered by banks today. The fact that over 800,000 people signed up for early access shows that many people are looking for better options outside of keeping your money in the bank earning an interest rate that does not keep up with inflation. We are hoping that Robinhood is able to figure out a way to offer banking solutions to customers, but for the time being it looks like this is still a fairy tale for this fintech company.