Got a few extra coins lying around? For a penny, you can invest in a micro-share of almost any stocks out there. For a nickel, you can buy a piece of stock or fund with shares priced at more than $1,000 per share.
Decades ago, investors were people with an astonishing amount of disposable income who were able to ride out the ups and downs of the stock market.
Flash forward to current times, when regular Joes like you and I can get in on the action for loose change.
All this is possible through micro-investing apps, and Stash is one of the stand-outs.
It's a popular platform. In just a couple short years since it was launched, more than 3 million have joined the crowd of Stash members.
Micro-investing lets you buy fractional shares of stock and ETFs. This means you get a slice of the stock, not the whole nine yards.
There are so many advantages to micro-investing! You don't need a thousand bucks (or more) to start out with. You're taking far less of a risk by investing a smaller amount. And many apps, such as Stash, are aimed at getting fledgling investors up and running.
Still seem out of your reach?
Consider this factoid: the average Stash investor spends about $22 per week to grow their portfolio.
That's basically the cost of Friday night pizza. It is very likely you won't be breaking your budget to set aside this smidge of money.
Here's an example: One share in Apple rings in around $300+, which may be out of your reach. But you can buy a fractional share for just $1.
Stash
Pricing

Assets

Account Minimum

Tools & Features

Sign Up Incentive
Summary
Stash is a beginner friendly investing app that charges between $1 and $9 per month to use the service. It also comes with a debit card that allows you to earn Stock Back instead of Cash Back which is unique. Overall, it is a solid platform if you can justify paying for a monthly subscription. There are many free alternatives out there.
Pros
Offer taxable, retirement and custodial accounts
Earn Stock Back when using the debit card
Trade stocks and ETFs or invest in a prebuilt portfolio
Cons
No free plan
Limited research tools
How Does Stash Work?
Don't worry, you won't be counting out your coins weekly to figure out how much to invest. Once you sign up with Stash, your investment account also comes with access to Auto Stash. These are automatic saving and investing tools that you can set and forget.
You can choose to invest on a set schedule. For this strategy, you invest a specific amount of money on a recurring schedule.
For example, this could be payday, or the last day of each month. It's all your choice. With set schedule, you can set aside money into your cash balance, or into any of the investments you've added to your portfolio. It's really the easiest way to make regular investing into a habit.
A very enticing option is round ups. Every time you spend with the debit card associated with your linked checking account, Stash will round up your purchase to the nearest dollar. In other words, Stash will save and invest your spare change from every transaction. dollar.
For example, if you spend $24.35, Stash will round it up to $25, with 0.65 cents funneled directly into your account
Smart stash is a third option. It is designed to help you save your extra cash by analyzing your spending and earning patterns.
Smart stash studies your recurring transactions, such as rent or mortgage payments, groceries and utility bills, as well as how often and how much you typically get paid, and then sets aside small amounts of money.
And we are talking very small amounts of money.
You can set your maximum transfer to $5, $10, or $25, which Stash will move to your cash balance once you have accumulated enough funds. Don't worry, smart stash will not transfer more than the maximum transfer amount.
You won't be locked in with any of the above Auto Stash venues. With all of these features, you can always hit pause, and then resume using them at any time.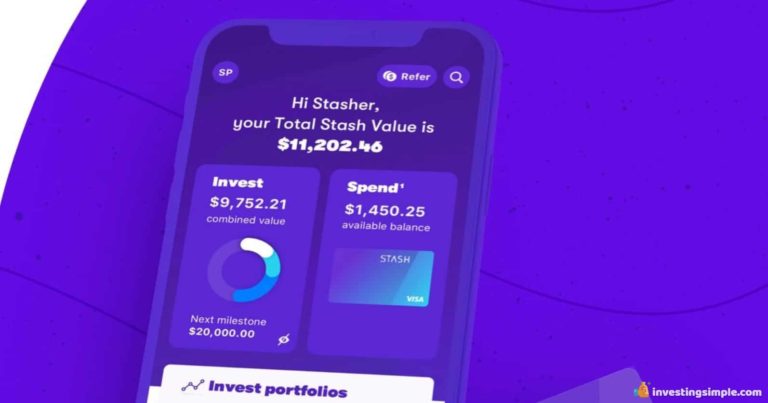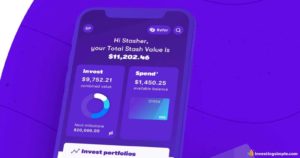 Stash Membership Pricing
There are three levels of membership: Beginner, Growth and Stash+.
Here is a breakdown:
Beginner ($1 per month)
Try out Stash and learn the basics.
Comes with a taxable brokerage account
You can also use the bank account feature
Access to financial education tools
Growth ($3 per month)
Build the foundation of a healthy financial life.
Access to both a taxable account and a retirement account
Same benefits as Beginner plan as well
Stash+ ($9 per month)
Maximize the power of every dollar.
Access to a taxable account, retirement account and two custodial accounts for children
Comes with a metal card instead of plastic
Monthly market insight reports

Building Your Portfolio
Stash allows you to choose your own stocks and ETFs in companies that are not only familiar, they are places you probably shop and products you typically buy.
In other words, they're not some obscure company you've never heard of.
There are hundreds of companies on the list in which you can invest, but here's are some of the most highly-recognized:
Amazon
Best Buy
Campbell Soup
Chipotle
Domino's
eBay
Facebook
Harley-Davidson
Hershey
JP Morgan
Kellogg's
McDonalds
Microsoft
Pepsi
Spotify
Starbucks
Walmart
Walt Disney
We aren't in any way recommending any companies from this list, but it gives you an idea of the broad range of availability.
On the ETF side, you have a large menu of options ranging from a long-term mix, Blue Chips, Worldwide bonds and a wide array of other choices to suit your individual philosophy. It's up to you how you want to choose your stocks and ETFs and diversify your portfolio.
How you decide what companies to buy into is your challenge. Carefully weigh the amount of risk – from conservative and on up – before you take your first steps. Do your homework.
Study the history and financial foundation of companies that catch your interest. Learn the terminology. Then, keep track of how your stock is doing.
Prebuilt Portfolios
Stash also gives you the option to seek guidance from pros. When you set up your account, you can answer some quick questions that will create a profile of how you want to invest. Maybe you're a risk-taker. Perhaps you're right in the middle of the road. Perhaps you have specific long-term goals, like earning money to buy a house.
The planners at Stash will study your answers and look at well-known stocks and investing themes based on expense ratio, trading liquidity and your risk profile. Then, they will recommend investments that suit your particular goals.
But their suggestions aren't written in stone. You can take them or leave them!
Other Services
Stash subscribers can get an online bank account that comes with flexible money management, early payday, and a debit card that can earn you rewards.
Early Payday
You work hard for your paycheck. Don't you want to get it in your pocket faster?  When you set up direct deposit to Stash, you can get your paycheck in your bank account up to 2 days early.
Stock Back Rewards
You will be a big fan of Stock Back. Unlike most cards that earn rewards, this is a debit card, not a credit card. Stock Back rewards is Stash's signature debit card rewards program that lets you earn pieces of stocks and funds back on qualifying purchases.
Get rewarded with pieces of stock for spending your own money like you normally would, and not for racking up debt through a credit card.
You'll earn 0.125% stock back rewards on all of your everyday purchases and up to 5% stock back rewards at certain merchants with Stock Back bonuses.
For the most part, your regular purchases—including gas, groceries, and dining—will qualify for stock back. Non-qualifying purchases include ATM withdrawals, gift or prepaid cards, and money orders.
Stock Back rewards never expire. Instead, their value is based on the stock's value, which means they have the potential to grow with the rest of your portfolio.
Use your Stash debit card at your go-to's—the companies you believe in and shop at all the time—you can earn a piece of stock in those companies as a reward.
When you spend at companies that have stocks associated with the platform, such as Walmart, Amazon, and Starbucks, you'll earn Stock Back rewards in those popular companies. When you spend anywhere else, like your local car wash, Stash will reward you with a diversified fund instead.
Stash Learn
You will get advice on how to start your retirement savings from Stash Learn, offering helpful tips, how-to's, guides, and articles relevant to you.
Stash also wants to grow your financial know-how, with many relevant articles available on topics ranging from reducing credit card debt to investing in a volatile market and how much you can expect to spend on services from a financial planner.
Under the education tab, there are detailed articles on the why's and how's of starting to invest. Consider it Investing 101. There's also a glossary of investment terms that may not be familiar to you.
There's a kid's module about teaching children to count money, sorting coins, and even getting your kid to do (paid) chores. They can learn how to plan a picnic on a budget and differentiate between what they "need" vs what they "want."
Under the budgeting module, Stash will gladly tell you everything you need to know about setting up an emergency fund, what to do with your year-end bonus and why living within a budget can be easier than you think!
How Safe Is Stash?
Your money is safe in Stash. All data is encrypted using 256K bit encryption, which is one of the most secure methods available today.
Stash – and we – want you to remember, though, that stocks and ETFs aren't risk-free investments. Your stocks can lose value, just as they can appreciate. We can't say this enough: do your homework, especially if you're a newbie.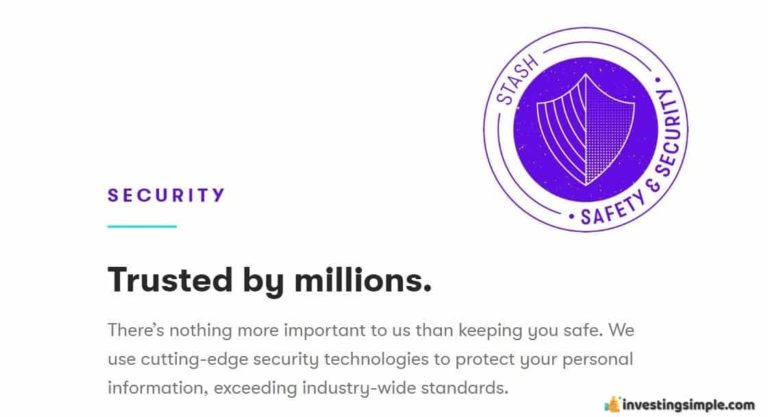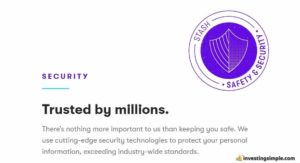 Stash Pros
Micro-investing starting at a penny
Earn stock back in companies where you shop and dine
Innovative offerings such as early payday
Retirement planning advice and the ability to put invested earnings into your IRA
Tons of resources to get new investors up to speed
Stash Cons
No free membership
You will need to take time studying the wide range of services they offer
Not designed for seasoned investors
Conclusion
At the end of the day, Stash is a decent investing platform. If you are comfortable paying fees, the features are decent and they do address a few unique needs such as custodial accounts.
That being said, if you are just looking to trade stocks and ETFs, there are countless 100% free investing apps you may want to consider first. There is really no reason to pay even $1 to $3 per month. 
If you plan on taking advantage of the full suite of tools and resources, the monthly fee might be justifiable.
Best Free Stock Promotions
Keep Reading: