Twine vs. Acorns
There are numerous choices out there when it comes to apps to save and invest your money. One of the goals of our blog is to provide clarity when analyzing all of the different options laid out in front of you. Today, we will be comparing two investing platforms offering a similar service known as Twine and Acorns.
Looking to plan for your financial future? The Twine saving and investing platform may be just the thing for you. You can set monthly savings goals for purchases large and small, and monitor your progress as you go along. One of the best benefits of the platform is that you can create joint savings and investment account, so you and your partner can compete and see who is doing better than the other. Now, Twine is offering a starting credit of $5 for readers like you.
How Does Twine Work?
Start using the Twine investment platform now by creating an account here. Once you've opened your account, you are free to set your savings goals, whether they are short or long-term. This savings feature is completely cost-free. For a 0.60% annual fee, you can also invest your savings using the Twine platform. Are you a risk-taker, or more moderate? You can invest in different Twine portfolios based on your risk tolerance. As you approach your goal, algorithms are used to adjust your portfolio and keep your money growing.
Savings Goals With Twine
Twine allows you to open accounts with someone else, or you can invite them to join you. Once created, you can designate savings goals and amounts to contribute. Both you and your partner can plan for each savings goal by setting up recurring payments into Twine. You can also each link your bank accounts to the Twine account to easily start saving toward your goals.
You can set up a Twine savings account with just $5. The Twine savings account yields interest rates that far exceed most typical bank accounts, with a current yield 1.05% variable interest. 
Twine Investing
Once you've gotten used to using the Twine savings platform, you can ramp it up and start investing some of those funds. This is especially valuable to speed up your growth and move towards longer-term goals. As your goal comes closer, your Twine portfolio will auto adjust to help you reach them.
The Twine investment platform offers multiple portfolios depending on your risk and goals. If you have $100 to invest, you can get started. Fees are based on 0.25% monthly for each $500 invested, which is 0.60% annually.
Twine platform investment portfolios are varied, blending a mix of Exchange Traded Funds, or ETFs. You will recognize some of the well-known fund companies, like Vanguard, used in Twine portfolios. The ultimate goal is to have a solid return based on risk for all of their portfolios.
Conservative Portfolio
If your savings goal is short-term, or within 5 years in the future, the conservative portfolio may be right for you. This option is 6% stock ETFs and 94% money market and bond securities. However, as you approach that savings goal, the percentage of stocks may dip to 4 or 5%.
The conservative portfolio is tailored to investors who shy away from risk, want more stability and less fluctuation. Although less risky than other Twine portfolios, this conservative one could yield lower returns.
Moderate Portfolio
If you're looking for something middle-of-the-road, the moderate portfolio may be a good choice because it generates slightly higher returns than the conservative portfolio.
However, it also carries additional risk. If your goal is still 5 years or less, then your portfolio will be 10% (or less) in stocks, and 90% money market and bond funds. If you have a longer-term, 10-15 year goal, your moderate portfolio will be 55% to 70% stocks. As your goal is extended out, your stock allocation will weigh in at around 70%.
Aggressive Portfolio
Ready to rock the boat? The aggressive portfolio comes with higher risk, but may also yield higher returns. If you have less than 5 years for your goal, this portfolio option is comprised of 70% money market and bond funds, and 30% (or less) stocks. Have a longer-term goal? If you have 10-15 years, the aggressive portfolio will funnel as much as 80% of your portfolio into stocks, and as your goal becomes longer-term, this allocation will go up.
Dividend Reinvestment
All of the dividends you earn will be deposited into your cash savings account.
Once your cash account exceeds the goal set by you, it will be reinvested into your Twine portfolio, thereby earning you compound interest.
Account Protection
You can count on the safety and security offered for Twine platforms. The Federal Deposit Insurance Corporation (FDIC) protects your cash up to $250,000 per account. The Securities Investor Protection Corporation (SIPC), a non-profit that protects against brokerage firm failure, will ensure the securities in your account up to $500,000, and $250,000 for cash.
Twine Fees
There aren't any regular fees for Twine savings accounts, which you can also open for free. For an investment account, you'll need a minimum of $100 to get going. After that, fees are only $0.25 monthly for each $500 invested (or 0.60% annually).
Twine Pros
Easy to use.
Can set joint goals and savings programs – or go it alone as an individual.
Compared to industry averages, it's low-cost (0.60% annually).
Fund companies used such as Vanguard are well-known and established.
Twine Cons
Doesn't offer IRA retirement account options.
Doesn't offer advice from financial wizards.
While the fee is low, other platforms offer no fee for investing.
What Is Acorns?
Acorns is an online robo advisor that helps you save and invest a portion of your debit and credit card transactions. The platform will round your purchases to the next dollar and send the difference to your brokerage account to be invested. The Acorns platform is simple and aims to help more people begin investing their extra cash. Once the cash is in your account it will be automatically invested into your Acorns portfolio. Acorns is designed to help the forgetful investor who does not remember to contribute or the type of person who would like to invest but has a hard time-saving.
Acorns Features
Acorns Spend: This is an Acorns provided the debit card. A checking account that has Acorns built in and will save and invest for you. Fees are $3 per month for Acorns spend.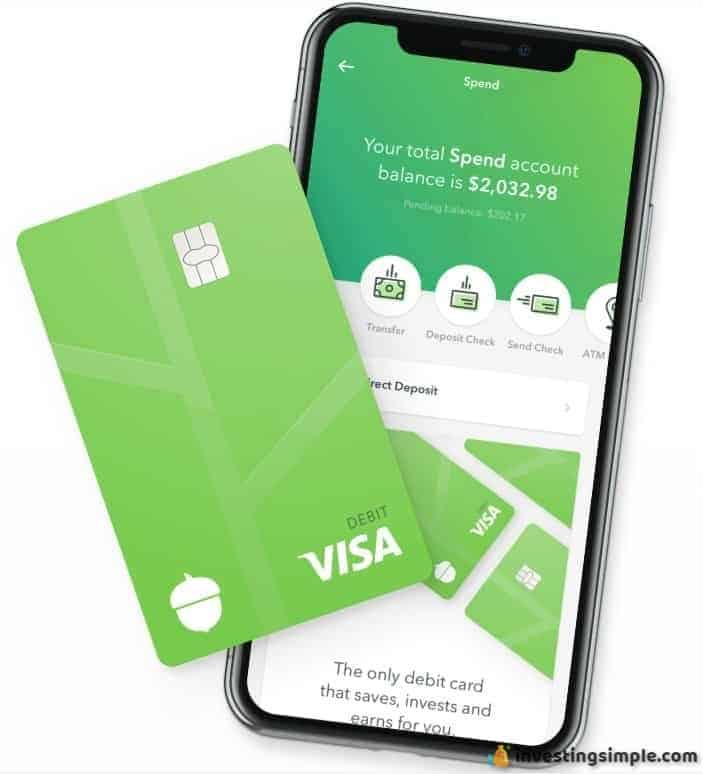 Acorns Later: Acorns offers Individual Retirement Accounts. Both Traditional IRAs and Roth IRAs.
Acorns Earn: Partnerships with brands and other retailers. Acorns partners include Nike, Apple, Airbnb, Blue Apron, Macy's, DirecTV, Lyft, Walmart and more. When shopping with an Acorns partner, you can earn an extra 5% to 10% of the transaction in cash back. This cash is then sent to your Acorns brokerage account and invested.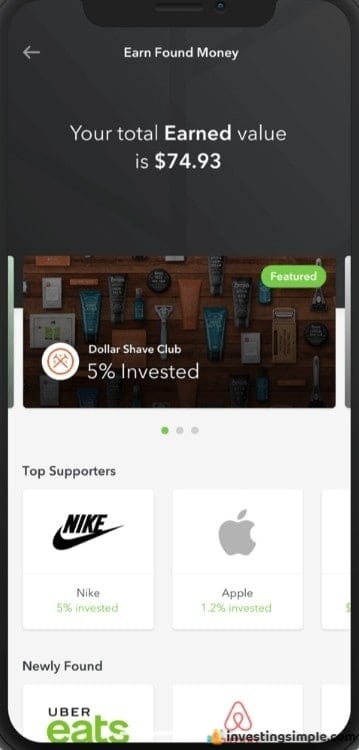 Acorns Grow: On Acorns grow you can access a variety of educational content that will help you learn more about investing and personal finance. The Acorns grow feature aims to educate beginner investors and guide them through the learning process.
What Are The Fees?
The basic Acorns platform known as Acorns Core automated investing is $1 per month. This $1 fee is waived for college students. If you want to invest in a retirement account through Acorns, this plan will cost you $2 per month. If you are interested in the Acorns Spend checking account, this will cost you $3 per month.
What Are The Investments?
Once you create your account, Acorns will ask you a series of questions for your investment objective. You can choose from five different options:
Long Term Investment

Short Term Investment

Major Purchase

Children

General
Once you choose your objective, Acorns will suggest a portfolio that aligns with your investment objective. Portfolios on Acorns were designed by Economist Dr. Harry Markowitz and are based on Modern Portfolio Theory. Each portfolio uses a stock and bond allocation that represents its level of risk. Conservative portfolios hold more bonds which tend to be less volatile when compared to stocks. Aggressive portfolios will hold more stocks which may generate higher returns over time but are more volatile when compared to bonds. Acorns also offers a variety of Vanguard and iShares ETFs on its platform.
Acorns Portfolio Options
| | | | |
| --- | --- | --- | --- |
| Portfolio | Stocks | Bonds | Real Estate |
| Conservative | 18% | 80% | 2% |
| Moderately Conservative | 36% | 60% | 4% |
| Moderate | 54% | 40% | 6% |
| Moderately Aggressive | 72% | 20% | 8% |
| Aggressive | 90% | 0% | 10% |
Acorns: The Verdict
Acorns is a suitable platform for beginner investors who would like to begin saving and investing over time. The biggest advantage Acorns has over other platforms is the automation of micro savings into your brokerage account over time. You may not realize it, but these small amounts add up over time. For other investors who schedule automatic deposits into their investment accounts every week or month, this feature may not be as useful. Acorns gives you the option to invest in 5 prebuilt portfolios. You cannot customize your portfolio or pick individual stocks or ETFs.
Twine vs Acorns: Final Verdict
Twine and Acorns are both very useful investing and saving platforms. There are many similarities between the two platforms. However, there are a few key differences between the two platforms that investors need to be aware of.
Saving: Twine is for setting a more serious savings goal and making dedicated monthly payments towards that goal. Acorns, on the other hand, allows you to save by using micropayments. The acorns design is more of a forced saving mechanism rather than a planned strategy.
Investing: Both Twine and Acorns are great platforms for novice investors, but we think Twine has a slight advantage. Twine will use your target time horizon to suggest one of their 3 portfolios. The platform will also automatically adjust the allocation within your portfolio as your savings goal approaches. Acorns, on the other hand, will ask you a questionnaire about your savings goal and suggest one of their five portfolios that fits best for you.
Fees: Acorns has lower fees if you want to invest larger sums of money. Acorns fees are $1-$3 per month depending on the services you use. Twine savings feature is free to use. The Twine investing fees are strictly $0.25 per month for every $500 invested (or 0.60% annually).
Joint Accounts: Twine hands down is the best platform right now for joint savings and investing platforms.
Twine and Acorns are great platforms for beginner investors and savers. The two platforms have slightly different strategies when aiming to help people save. We believe Twine's strategy will cater to a person who is more diligent in saving and planning. Acorns, on the other hand, is best for those who struggle to save on a consistent basis.