EquityMultiple is an online real estate investment platform where accredited investors can gain access to private real estate investments.
These projects are managed by professionals. This means if you are an investor, you won't have to be involved in day-to-day decisions as the project moves along. This makes EquityMultiple a solid avenue for passive investing.
EquityMultiple is a solid example of crowdfunded real estate, which means investors can pool their money together to purchase larger real estate investments.
Flash forward to current times, when platforms harness the power of crowdfunding. This brings many investors into a project at lower dollar amounts, making it possible for people without those mega-bank accounts to get in on a good deal.
Here's how this platform works for a complete beginner.
Overview of EquityMultiple
Founders of EquityMultiple set out to fulfill their goal of making commercial real estate investing accessible, simple and transparent for people looking to grow their wealth now and into the future. And who doesn't want that?
Company researchers look for projects that carry an expectation of a strong cash flow. All payments and updates are centrally managed and administered by EquityMultiple.
The platform has seen enormous success, with 14.5% total historical returns, more than $3.06 billion in asset value, and a whopping $55.7 million returned to investors.
The minimum investment is usually around $10,000-$20,000 but will vary from project to project. Right now, it is limited to accredited investors only.
Best Real Estate Platforms
EquityMultiple Offers
Exclusive Deals: They source potential investments from a nationwide network of experienced real estate firms with a solid track record.
Data-Driven Diligence: They apply their own proprietary algorithms and underwriting methods. Only a select few investment opportunities make it through these multiple layers of scrutiny, and ultimately get featured on the EquityMultiple platform. They end up selecting only about 5% of investment projects they evaluate.
A Team Approach: A group of people with decades of real estate transaction experience is in charge of each project. Their goal? To protect your principal and maximize returns.
Sustained Growth: These experts have a goal of helping you build a diversified portfolio of cash-flowing real estate that grows in value over time.

What Makes EquityMultiple Unique?
Right now,  there are several well-established platforms out there for people who want to try their hand at real estate investing, such as:
However, EquityMultiple focuses almost exclusively on institutional commercial real estate, which is different from other platforms that feature single-family and non-institutional properties.
They are also one of the handful that offers equity, preferred equity, and senior debt investments. This lets people choose the types of investments that fit their unique investment goals and build a diversified real estate portfolio.
Types Of EquityMultiple Investments
EquityMultiple provides three investing approaches, all supported by decades of real estate experience and in-house underwriters, asset managers, and investor relations specialists.
You can choose the approach that aligns with your investment goals, or diversify across all three.
Fund Investing
Multiple assets with built-in diversification.
Best for investors looking for immediate diversification.
Strategies: Debt, Equity, Opportunity Funds, CRE Securities
Target Duration: 1.5 to 10+ years
Minimum Investment: as low as $20k
Direct Investing
Targeted investments into distinct properties.
Best for investors building their real estate portfolio one property at a time.
Strategies: Debt, Preferred Equity, Common Equity
Target Duration: 6 months to 5+ years
Minimum Investment: as low as $10k
Tax-Deferred Investing
Equity investments offering tax benefits.
Best for investors with substantial recent or potential capital gains.
Strategies: Opportunity Zone, 1031 Exchange
Duration: 5 to 10+ years
Minimum Investment: as low as $40k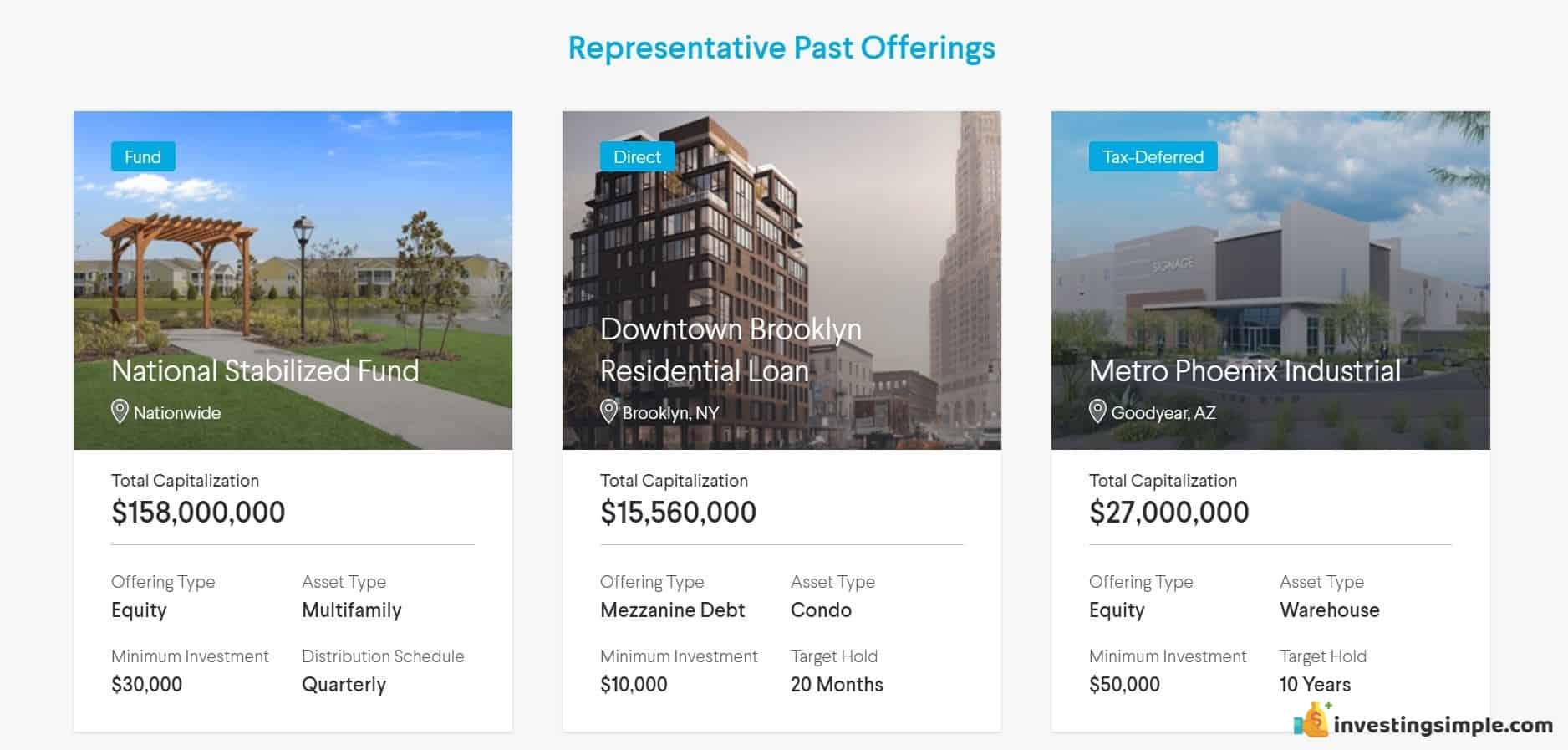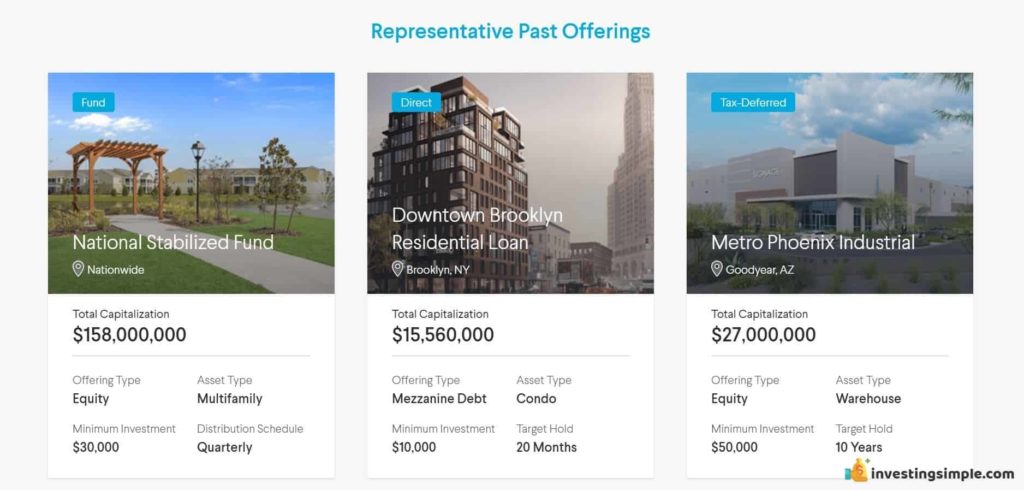 What Projects Are On EquityMultiple's List?
The platform offers a range of property types, including (but not limited to):
Multi-family housing
Office
Industrial
Storage
Car Wash
Cannabis Facilities
Opportunity Zones
Retail
Mixed-use
Senior Living Facilities
Student Housing
Data Centers
Hotels
How Does The Platform Make Money?
EquityMultiple will take a small rate spread on preferred equity and debt investments and an asset management fee of 0.5% for each common equity investment.
EquityMultiple presents all fees associated with each investment offering, in full transparency, within project documents found at the bottom of each offering page.
How Does EquityMultiple Work?
EquityMultiple is a well-organized real estate investing platform specializing in commercial projects. Its pre-screening process allows you to rest easy. It is a great example of passive investing because you don't have to lift a finger or make any decisions about the properties themselves.
You will see income quarterly, but this isn't by any means a get-rich-quick venture. While some investment terms start at 1 year, you may not have the chance to cash out of many deals for at least five years.
Then there's the requirement that you must be an accredited investor, which rules out a large pool of people. But you can add EquityMultiple to your real estate investing wish list for the future!