Lending Club IRA Accounts

Investing Simple is an affiliate of LendingClub. This relationship does not influence our opinion of these platforms.
LendingClub is a peer to peer lending platform that allows you to earn interest in return for lending money to borrowers on the platform. LendingClub offers a variety of different types of accounts including retirement accounts. In this article, we are going to outline the benefits and drawbacks of opening a retirement account with LendingClub.
Curious about our full review of LendingClub? Read it here.
What Is Peer To Peer Lending?
Peer to peer lending takes a modern approach to the traditional bank loan. Traditional lending has been reserved for the banks for hundreds of years. Now, investors can get rid of the middleman and lend directly to borrowers. This allows investors to fund loans and earn principle and interest in return, and it allows borrowers to take out loans and make monthly payments on those loans. LendingClub acts as the exchange; its' purpose is to connect lenders and borrowers. LendingClub retains a fee for facilitating this.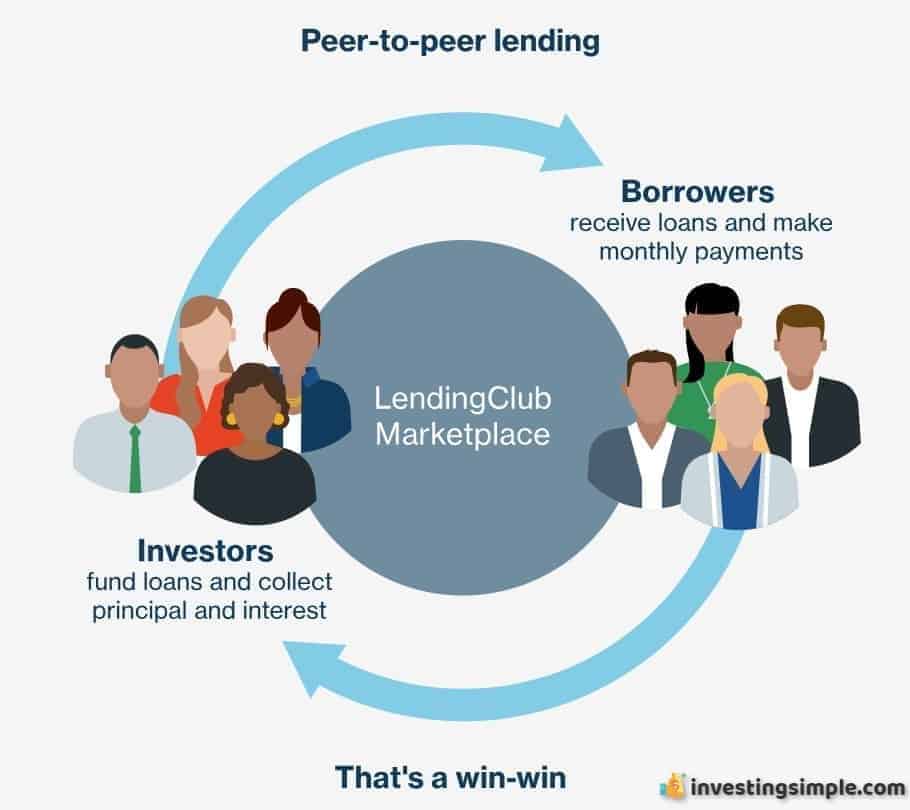 LendingClub Note Structure
LendingClub offers a wide variety of notes on their platform. Each note is identified by its relative risk to the investor and rated from A to E. A being the highest quality notes and E being the lowest quality. Risk is identified by a set of criteria such as credit score, debt to income ratios, credit history and activity of the borrower. The higher the risk, the higher the interest rate on the note. Therefore investors who take higher risk and invest in E grade notes will have the highest interest rates. They also have the highest risk of losing part, if not all, of their investment.
It is recommended by LendingClub to invest in a number of different notes in order to diversify exposure and lower risk. If you are curious about the average returns on LendingClub, check out this article.

What's The Advantage Of A LendingClub IRA?
LendingClub IRAs allow you to potentially benefit from tax advantaged earnings in your account. Just like any other traditional tax deferred and tax advantaged accounts, IRAs held at LendingClub will hold all earnings within the account and will not be included in your gross income when it comes time to file your taxes.
The IRA tax advantage is a major benefit when investing in an interest-bearing asset such as LendingClub. If you are holding LendingClub notes in a regular taxable account, you will pay tax on all interest earned at ordinary income tax rates rather than lower capital gains rates. The higher your marginal income tax bracket, the greater the impact on your after-tax returns. By using a retirement account, you will not pay taxes on the earnings each year. Instead, you will pay taxes on the distributions when you withdraw from the account when you are in retirement, save the Roth IRA which will be tax-free.
Unfortunately for taxable account LendingClub investors, all gains are taxed as short term capital gains. Retirement account investors are at a huge advantage by remaining tax sheltered.
LendingClub IRA Options:
Traditional IRA

Roth IRA

Simple IRA

SEP IRA
Click here to Invest with LendingClub today!
How Do I open An IRA On LendingClub?
Opening a LendingClub IRA is quite easy, you will be asked a series of questions in order for LendingClub to gain information about you as the investor. You must also make sure you are eligible under LendingClub's State and Financial Suitability Policy.
IRA/401(k) Rollovers On LendingClub
LendingClub also offers IRA transfers and 401(k) rollovers on it's platform. With a 401(k) rollover you must provide LendingClub with rollover instructions which are provided in the transfer page of your account and in the instructions for the IRA registration process.
You must then contact your current 401(k) administrator to initiate the rollover process. All 401(k) rollovers must be done in cash, so make sure your 401(k) is completely liquidated to cash before you initiate the transfer. Rollovers can take from 2 to 3 weeks to complete.
IRA transfers on LendingClub are simple and can be initiated through an account transfer form or on your original IRA application. Similar to 401(k) rollovers, IRA transfers must be done in cash. Make sure your IRA is 100% cash before you initiate the transfer. IRA transfers may take 2 to 3 weeks to complete.
How Do I Get The IRA Fee Waved?
All LendingClub retirement accounts are held by a third party custodian, IRA Services Trust Company. If your account is held at STRATA, you will be subject to a $100 annual maintenance fee. This is one of the drawbacks of opening an IRA with LendingClub. However, LendingClub will pay the annual maintenance fee for you if you meet certain criteria:
If you open a LendingClub IRA and maintain a $5,500 balance in the first year then LendingClub will pay your $100 annual fee.

If you maintain a $10,000 balance in your LendingClub retirement account in subsequent years then LendingClub will pay your $100 annual fee.
The Verdict: LendingClub Retirement Investors
When investing in LendingClub notes it is important to understand the advantages and disadvantages of the platform. In most cases, LendingClub retirement accounts can offer significant tax advantages.  By meeting certain criteria LendingClub will wave the annual maintenance fee for your retirement account. If you are investing in peer to peer lending, you should consider doing so in a tax sheltered retirement account to avoid paying short term capital gains tax on your returns.
Click here to Invest with LendingClub today!