Fundrise eFUND: A Good Investment?
Fundrise is a new investing platform that allows everyday investors to invest in private commercial and residential real estate projects.
By combining technology and the release of new regulations, Fundrise has been able to establish a platform that differs in many ways compared to traditional real estate investments.
Check out our full review of the Fundrise platform here.
Through Fundrise, you can invest in two different investments known as eREITs and eFunds. To learn more about eREITs read our article here.
Fundrise eREITs are designed to provide income to the investor, while Fundrise eFUNDs are designed for growth. 
What Is The Fundrise eFUND?
Fundrise eFunds consist of investments with the objective to realize capital appreciation for the investor. This is possible by buying existing real estate, renovating, and later selling the property for a higher price and recognizing a capital gain.
Fundrise currently offers 3 types of eFunds based on their geographic location:
Los Angeles eFund
Washington DC eFund
National eFund.
The focus of eFUNDs is primarily on single-family homes. As well as townhomes and condominiums located in growing and developing metropolitan areas.
Fundrise eFund VS eREIT
Fundrise builds the eFunds using a slightly different structure compared to traditional REITs. In an eFund there is no minimum requirement for return of earnings to shareholders every year in the form of dividends.
A traditional REIT requires 90% of the taxable earnings to be distributed to the investors in the form of dividends.
It is important to understand the goal of the Fundrise eFund is to recognize capital gains over time, so this traditional REIT model does not make sense for this application.
Fundrise is not investing in properties with the goal of annual positive cash flow through the eFunds. If you are interested in positive cash flowing real estate, check out the Fundrise eREITs.
Since eFUNDs are designed for growth, they are set up as partnerships that are slightly more flexible to manage than REITs.
eFund Investment Strategy
Fundrise eFunds offer diversified investments in residential real estate. These investments are difficult for individuals to construct on their own and would require millions of dollars of start-up capital.
By setting up partnerships, Fundrise can leverage investor capital and participate in growing real estate markets throughout the US.
One of the main goals of Fundrise eFund investments is to participate in growing real estate markets. They do this by identifying specific areas that are showing a high demand for affordable housing.
Most of the cities Fundrise focuses on are metro areas with high affordability gaps. This is the gap between rental housing costs and the average monthly income of residents. Fundrise sets the goal to provide more housing options in these high demand areas.
Fundrise eFund Investments
The Fundrise investment team has a strategic approach for their eFunds. They aim to buy residential real estate or land in areas of high growth; specifically areas with a high likelihood of first time home buyers and growth in younger demographics.
Fundrise then renovates or develops entirely new projects to increase the value of their land or real estate acquisition. Once they have completed the redevelopment of the area, Fundrise will sell the property realizing any profits or losses.
Investors aim to earn a return through asset appreciation, not rental income or cash flow.
Currently, Fundrise offers 3 different eFunds:
National eFund
The National eFund plans to invest in residential housing in major metropolitan areas throughout the US. This fund strategizes in targeting first time home buyers and areas with high potential for development.
The National eFund plans for the construction of single-family homes, townhomes, and condos. This eFund plans to acquire land and other real estate in areas of the US that are not being sponsored by another eFund.
In LA, for example, this eFund aims for single-family renovations and rentals where the LA eFund targets new housing development.
Washington DC eFund
The Washington DC eFund looks to purchase land for development in the metropolitan areas of Washington DC. Like the other eFunds, this fund aims to develop single-family homes, townhomes, and condominiums in high growth areas.
This fund has a main focus on first time home buyers and areas of DC with high affordability gaps.
Los Angeles eFund
The Los Angeles eFund aims to purchase land in the metropolitan areas of LA for the development of residential housing. The main focus is on the construction of single-family homes, townhomes, and condominiums in high growth neighborhoods.
The LA eFUND targets areas with high potential for first time home buyers and younger demographics.
Click here to get started with Fundrise!
eFUND Minimum Investment
To invest in a Fundrise eFUND the minimum investment is $1,000. Once you invest an initial $1,000 then you can make deposits in smaller denominations of $100 or more.
Be cautious as many Fundrise investments aim for a 5 year minimum time horizon, so investors should be prepared to hold the investment for some time.
eFUND Liquidity
Like all other Fundrise investments, liquidity or the ability to sell is not guaranteed.
Investors should understand that Fundrise investments are a 5 year investment time horizon. Any redemptions before this 5-year time window may be subject to early redemption fees.
Early redemption fees range from 1% to 3% depending on how long you've held your investment. If you withdraw funds in your first 90-days there is no redemption fee.
Fundrise eFUND Fees
In real estate we are all familiar with the crazy amount of fees involved. This applies to any type of real estate investment.
Fundrise has some fees that investors should be aware of. These fees include
1% annual management fee, this is broken down into a 0.85% asset management fee for managing the underlying properties. And a 0.15% portfolio management fee for managing your investment account.
Early redemption fees ranging from 1% to 3% depending on how long you've held your investment. No early redemption fees if you sell within 90 days of your initial investment or after the 5 year investment period.
Fundrise also has the ability to sell shares of their investments at a price above Net Asset Value (NAV). This means investors may be paying a premium or a commission to Fundrise to invest.
Asset origination fees ranging from 0-2% for the origination of the real estate deals
Fundrise Return History
Fundrise has shared its total return history throughout its funds. Compared to traditional investments, the returns are impressive. Take a look at the Fundrise historical return history below. In 2018 Fundrise returned 9.11%, reasonably outperforming many Vanguard REIT investments.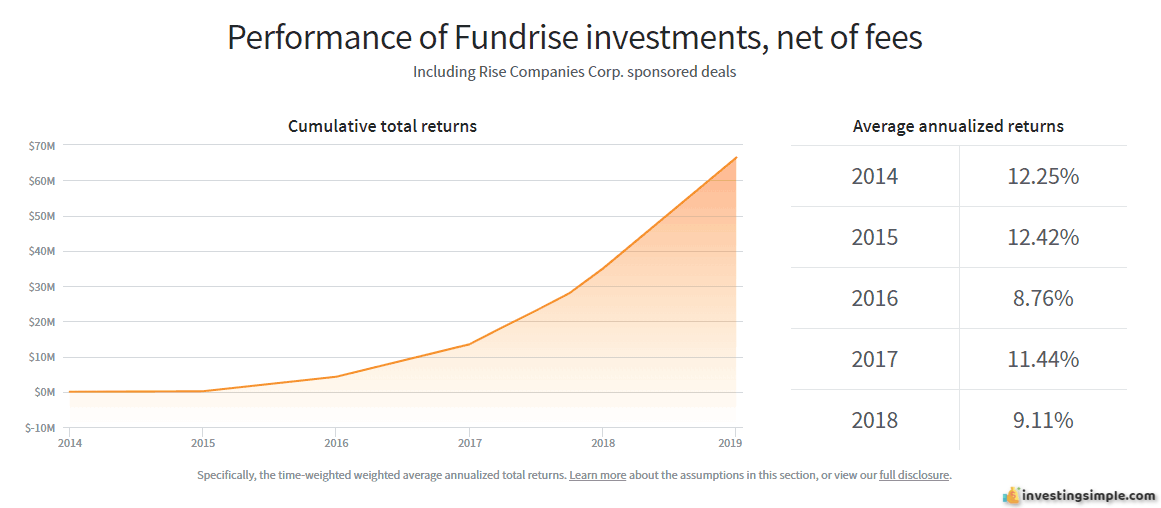 eFUND Taxes
Fundrise creates eFUNDs as partnerships and therefore have tax implications unique to partnerships.
In a partnership, your share of the net income or loss generated by the eFund will be reported to you on a K-1.
At the end of the year, you will report earnings from the K-1 on your tax return.
Partnership earnings are generally taxed as ordinary income to the taxpayer. Any capital gains in the partnership will be taxed at capital gain tax rates to individuals.
Consult your tax advisor for questions about your specific tax situation.
Fundrise eFUNDs: An Investment to Consider?
If you are looking to invest in real estate then a Fundrise eFUND may be something to consider. If you are in any of the geographic regions where Fundrise is investing then you may be familiar with these robust real estate markets.
For example, if you are a potential real estate investor living in Los Angeles, then you may have a firm understanding of which areas are ripe for investment.
You could save up for a down payment or approach a real estate partnership or syndicate to try and raise capital to invest. This could be a great potential investment. However, the amount of work will be extensive and very involved.
On the other hand, you could invest $1,000 or more into a Fundrise eFUND that purchases a similar if not that exact investment. Fundrise eFUNDs allow for a passive way to invest in private real estate deals without all the leg work involved.
What are your thoughts on the Fundrise eFUND? Leave us a comment below!
Click here to get started with Fundrise!