Fundrise vs CrowdStreet 2020
Asset allocation is always important in a well balanced investment portfolio. From stocks to real estate, there are many different ways to diversify.
In this post, we would like to review and compare two very popular real estate investing platforms, Fundrise vs CrowdStreet.
Both of these platforms have similar offerings, where they are giving you the opportunity to passively invest in real estate. 
Summary
Fundrise takes a new approach to a non-traded REIT by being highly accessible to small retail investors.
Investors can begin buying REITs of private real estate deals throughout the United States with a $500 minimum investment.
CrowdStreet, on the other hand, offers three different investment options with the lowest being a $25,000 minimum investment.
Fundrise is not limited to accredited investors.
Most CrowdStreet investments require the accredited investor status.
Fundrise has a transparent 1% fee while the fees on CrowdStreet vary based on the investment type.
CrowdStreet offers three different types of investments while Fundrise only offers portfolio based investing.
| Feature | Fundrise | Crowdstreet |
| --- | --- | --- |
| Minimum Investment | $500 | $25,000 |
| Accredited Investors Only | No | Yes |
| Fees | 1% + Origination Fees | 0.5% To 2.5% |
| Liquidity | Low | Low |
| Investments | Portfolios | Portfolios, Private Placements |
Click here to invest with Fundrise!
Click here to invest with CrowdStreet!

How Does Fundrise Work?
Fundrise is a crowdfunded real estate investing platform. Similar to real estate investment trusts or partnerships, all the investors pool their money together to purchase real estate assets.
These assets then produce income and/or growth based on the principal investment.
Historically, Fundrise has provided investors with solid 8 to 11% returns on their portfolios over time. That being said, it is a longer term investment with a minimum time horizon of 5 years.
Real estate is traditionally a high barrier to entry investment, but crowdfunded platforms allow average retail investors to gain exposure to this asset class. The Fundrise Starter Portfolio has a minimum account balance of $500. You are able to upgrade to one of the advanced plans at any time, so this is a great way to test the platform out.
Click here to invest with Fundrise!
This platform offers a variety of benefits such as low account minimums and quarterly redemption periods. However, investors should understand the liquidity and time horizon of an investment in the Fundrise platform. We will discuss this in further detail throughout the article.
Real Estate Projects
Fundrise offers plans to invest in different types of real estate such as income producing rental properties or growth-oriented real estate developments. Fundrise offers different investment plans based on your investment objectives.
You can keep track of Fundrise real estate projects within your account. Fundrise will also notify you about major developments with their projects.
The main investment objectives of Fundrise are to generate revenue from income-producing properties as well as buying and selling real estate in thriving markets.
As a Fundrise investor, you can choose whether you want to be in a growth-oriented portfolio or income-oriented portfolio. They also offer a blended portfolio, if you want the best of both worlds!
Fundrise investors receive income from rental payments and proceeds from flips in the form of dividend payments or distributions. They also receive interest payments from the debt investments, as this platform offers a blend of debt and equity investments.
In exchange, Fundrise collects a 1% fee as the investment manager. This is the only fee they charge, however you may be subject to an early redemption fee if you do not commit to the full term of the investment.
It is important to understand that Fundrise is a private real estate investment. The Fundrise eREITs and eFunds can only be bought and sold through this platform. They are not publicly traded on a stock exchange like a publicly traded REIT.
Fundrise Investment Options & Portfolios
Fundrise allows you to choose from four professionally built real estate portfolios based on your risk tolerance and investment preferences.
Some portfolios are geared towards cash flow and others focused on the growth of the underlying assets.
If you invest the minimum of $500, you will be placed in the starter portfolio.
The other three advanced plans require a minimum investment of $1,000.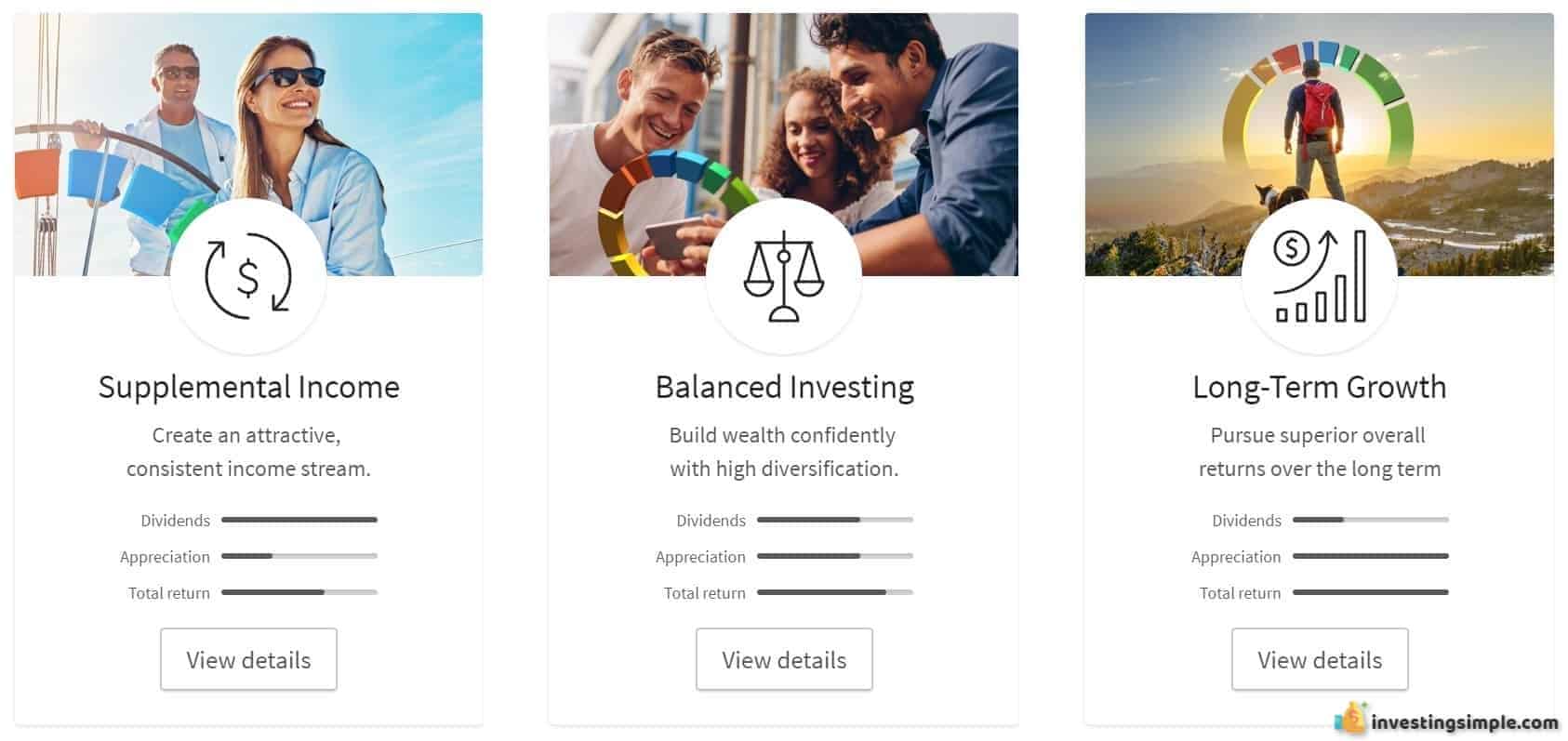 Starter Portfolio
The Fundrise Starter Portfolio is for new investors who would like to give Fundrise a shot.
The minimum account requirement is only $500 to begin investing. This portfolio consists of 50% growth and 50% income-oriented holdings.
If you want to upgrade to an advanced plan down the road, it is completely free!
Supplemental Income
Next, we have the Fundrise Supplemental Income Portfolio.
This portfolio holds income producing real estate.
Investors will earn returns primarily through dividends from cash flow producing real estate. Dividends are generated through rental and interest payments in proportion to your share of the fund.
Balanced Investing
The Fundrise Balanced Investing Portfolio offers a blend of 50% growth and 50% income-oriented investments.
The balanced investing portfolio invests in a blend of eREITs and eFunds offered by Fundrise. The goal for this portfolio is for a balance of income-generating real estate, as well as real estate that is appreciating in value.
Long Term Growth
Finally, we have the Fundrise Long Term Growth Portfolio.
The goal of this portfolio is to generate returns primarily from asset appreciation.
This portfolio aims to purchase high growth potential real estate and generate returns mostly from the sale of the underlying properties. This includes buying property and performing renovations in order to sell the asset for a gain later.
Fundrise Technology: eREIT & eFUND
Fundrise leveraged new investment technology when they launched their platform back in 2010.
Each portfolio consists of eREITs and eFunds designed by Fundrise. These investments are set up as real estate investment trusts or partnerships and they are managed by Fundrise.
An eREIT will produce income for your portfolio in the form of dividends.
You will earn dividends from the rent payments of the underlying apartment and commercial leases owned within the eREIT. As well as interest payments from underlying real estate debt investments owned by the REIT.
An eFund is a partnership created by Fundrise to be treated differently for tax reasons and to provide greater investment flexibility.
Partnerships have the advantage of avoiding the double taxation of normal C-Corps. eFunds are structured in a similar way to eREITs where there is a pool of real estate investments split into shares and sold to investors. Where eREITs aim to generate income, eFunds are geared towards growth.
Fundrise Investment Liquidity
Fundrise uses the funds you invest to purchase real estate. For this reason, there is a 60 day waiting period for withdrawing funds. There are also quarterly redemption periods, however liquidity is never guaranteed. You may also be subject to early withdrawal penalties if you do not commit to the full investment term.
This is why it is important to understand what you are investing in when you invest with Fundrise. Investors should aim for a long-term investment of at least a 5-year time horizon when investing with Fundrise. This real estate investment is not highly liquid and may not be for everyone!
Fundrise Historical Returns
It is important to remember that past performance does not guarantee future returns. All investing involves risk, including the potential loss of principle. That being said, since inception the Fundrise returns have been solid, typically ranging from 8 to 11%.
These returns are "net of" or after fees. Here's the return I experienced from my $5,000 Fundrise investment.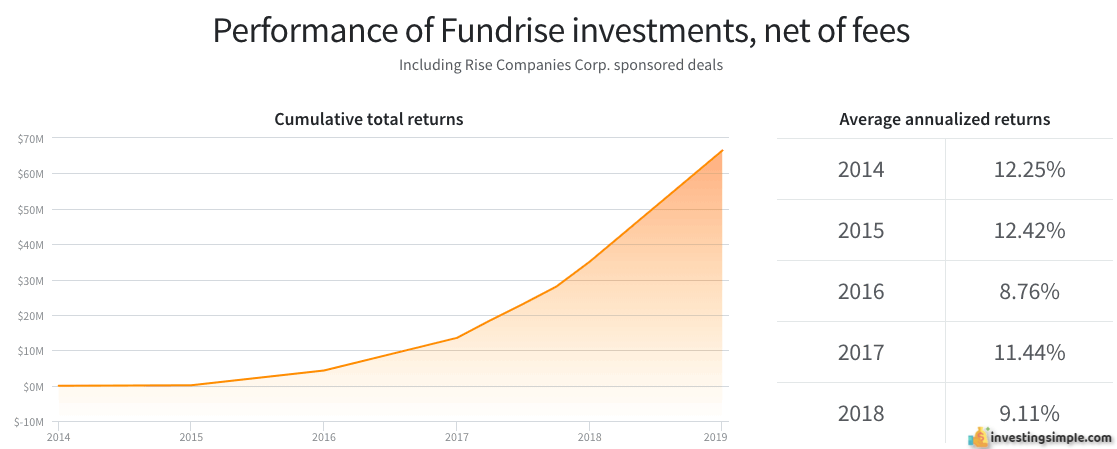 Click here to see updated Fundrise returns.
Fundrise Fees
Fundrise charges a fee of 1% per year.
They do not charge any other hidden fees and there is no front load fee with Fundrise.
The returns shown above are the returns after Fundrise collects the 1% fee.
If you cash out early, you may be subject to an early redemption fee. 
Fundrise Pros
The minimum to start investing with the Starter Portfolio is $500.
Small retail investors are able to access private real estate investments.
Returns so far have ranged from 8 to 11% after fees.
Fundrise offers non-traded REITs, which may not directly correlate with the fluctuations of the stock market.
Fundrise has a transparent fee of 1% per year.
This investment allows you to earn compound interest, with the option of automatically reinvesting quarterly dividends using a drip (Dividend Reinvestment Plan).
Fundrise does not have a minimum net worth or income requirement like most private investment funds do (you DON'T need to be an accredited investor.)
This is a 100% passive real estate investment.
Fundrise gives you diversified exposure to real estate.
Fundrise supports retirement accounts.
Quarterly redemption periods eliminate the temptation for panic selling.
Fundrise Cons
Fundrise cannot guarantee liquidity. During a downturn, liquidity may not be available as many investors will rush to sell and buyers may be few and far between.
Distributions (dividends) are not guaranteed.
Distributions (dividends) are taxed as ordinary income rather than capital gain rates.
The platform has a limited track record and not a long investment history.
Fundrise: The Bottom Line
Fundrise may be a great platform for passive investors who are looking to gain access to private real estate markets. This may also a good option for investors who are looking to diversify asset classes and have less correlation to the overall stock market. These non-traded REITs cannot be sold as easily as a publicly traded REIT, so there tends to be a lot less correlation between them and stocks.
Since you can only liquidate your positions quarterly, investors may be less tempted to actively trade in and out of positions.
In addition, you can automate your dividend reinvestment plan, allowing compound interest to build up in your account.
In most cases, Fundrise is best for investors with a minimum 5 year time horizon. Real estate is not a highly liquid investment and inexperienced investors need to take this into consideration.
While Fundrise does offer a 90-day satisfaction guarantee, you should not invest if you have a short-term investing mentality.
Click here to invest with Fundrise!

What Is CrowdStreet?
CrowdStreet is an online commercial real estate investment platform that launched back in 2014.
This platform differs from the others mentioned above because there are three different ways you can invest with them:
Invest directly into individual real estate deals.
Contribute to an investment portfolio of 30 to 50 properties.
Fully managed investments based around your goals and objectives.
CrowdStreet is one of the many crowdfunded real estate investing platforms we have come across that allows investors to pick and choose individual projects to invest in.
This platform also focuses solely on commercial real estate, meaning there is no residential real estate in the mix. On their site, they claim to review around 400 potential investment opportunities each month. Of those reviewed, less than 3% are accepted.
CrowdStreet is mostly for accredited investors, since they currently only have one project available to non-accredited investors. These investments in individual real estate projects are higher risk, so they are often open to accredited investors only.
Minimum Investment
The minimum investment is different based on which method you go with, as they offer a few different investment options.
For the direct investing approach, a $25,000 or $50,000 minimum is common.
The minimum to invest in portfolios ranges. For example, the Opportunity Zone Portfolio has a minimum investment of $100,000 while the blended portfolio has a minimum investment of $25,000.
Finally, the fully managed portfolio option has a minimum investment of $250,000.
This makes CrowdStreet out of reach for many new investors. It is clear that they are aiming for higher net worth, accredited status clients.
Due to federal regulations, most of the CrowdStreet investments are for accredited investors only.
Click here to invest with CrowdStreet!
CrowdStreet Investment Options
Direct Investing
Through direct investing, you pick and choose properties to invest in.
This is ideal for the active investor with a sizable amount of capital to deploy. CrowdStreet offers research tools for investors and is very transparent.
Currently, the deals available on CrowdStreet have a minimum investment range of $25,000 to $50,000.
Fund Investing
Investing in a portfolio of real estate projects is a great approach for passive investors.
CrowdStreet has already done the research on these real estate investments. Each portfolio holds anywhere from 30 to 50 commercial properties.
The minimum to invest in the CrowdStreet Blended Portfolio is $25,000.
Managed Investing
Finally, there is managed investing. CrowdStreet will personally manage your portfolio to help you reach your investment goals.
CrowdStreet experts will build you a personalized real estate investment portfolio and invest in deals on your behalf.
This service is reserved for high net worth investors, as the minimum to invest is $250,000.
CrowdStreet Returns
With the direct investing approach, each project has a targeted investor IRR or internal rate of return.
Of the 8 projects available when we did our research, the targeted investor IRR ranged from 9% to 24% based on a number of different factors.
According to the CrowdStreet homepage, since launching in 2014 they have listed close to 400 different offerings on their site. Of those offerings, 23 have been fully completed and money has been returned to investors. The average IRR on these projects has been 30%, with over $99 million paid back in returns to investors so far.
Click here to see updated CrowdStreet returns.
CrowdStreet Fees
The fees for individual projects range based on the project.
For the CrowdStreet funds, the fee ranges from 0.5 to 2.5%.
Pros Of Investing With CrowdStreet
Historical returns have been very solid.
CrowdStreet allows investors to invest directly alongside a sponsor rather than using an alternative investment vehicle.
You can invest directly in a single property rather than investing in a basket full of multiple properties.
A number of options are available to investors.
CrowdStreet provides access to real estate investments that would be otherwise extremely difficult to find.
Cons Of Investing With CrowdStreet
The minimum investment of $25,000 to $250,000 is quite high.
CrowdStreet does not offer a secondary market where you can liquidate your investment, meaning you are locked in for the entire investment duration.
Most of the investments are for accredited investors only.
Fundrise vs CrowdStreet: The Bottom Line
Fundrise and CrowdStreet offer similar, but very different crowdfunded real estate platforms. Both platforms allow you to invest in commercial real estate using the convenience of online platforms. They both offer portfolio or fund based investing, but the minimum investment required is significantly higher for CrowdStreet.
The Fundrise starter portfolio has a $500 minimum while most of the CrowdStreet funds have a $25,000 minimum investment.
Another important difference is the accredited investor requirement. All but 1 of the CrowdStreet investments require you to be an accredited investor, while all of the investment offerings from Fundrise are open to non-accredited investors.
It is clear that CrowdStreet is going after an entirely different market of investors. Fundrise is looking to work with your average everyday investor who has a few thousand dollars to invest.
CrowdStreet is unique because you can decide which properties you'd like to invest in and put your entire investment into that one property. Fundrise, on the other hand, will only let you invest in their assortment of portfolios (Beginner, Long Term Growth, Income, etc). For that reason, in most cases CrowdStreet is better for active, high net worth investors.
In some instances, the fees may be lower for CrowdStreet but not in all cases. That is because the fees for the funds range from 0.5% to 2.5%. Fundrise charges a 1% annual investment management fee.
Overall, we believe Fundrise offers a more appealing platform and one that is more accessible to the average investor. CrowdStreet may be a good option for those higher net worth investors who have the capital to meet the minimum investment and would like to concentrate their real estate portfolio.
Click here to invest with Fundrise!
Click here to invest with CrowdStreet!