Founded in 1993 and headquartered in Redmond, Washington, MicroVision Inc, MVIS stock, is the creator of a patented scanning technology they call PicoP. The PicoP brand has wide application across a multitude of segments.
Simply stated, MicroVision Inc. has developed laser scanning technology for image capture, 3D sensing, and projection.
So what does that mean? MicroVision has created scanning technology that can display both non-interactive and interactive display. Imagine a projector an 8th of the size with HD, full color, and high contrast.
Notable and important applications of this technology also include LiDAR sensing tech pertaining to autonomous driving and 3D scanning for consumer electronics such as smart home devices.
MicroVision is also working on designs for head-mounted augmented/mixed reality headsets.


Why is MVIS Stock Moving Now?
In the last year, MVIS stock is up nearly 7,000% and currently trading around $13.29. In the latest 3 months, MVIS is also up about 95%. Has the trend ended? Can investors continue to expect such returns?
In early February, MicroVision announced progress on its long range LiDAR sensor. This is significant as this product has been in development for over 2 years and hadn't had an update in a few months. This particular product is technology that could propel autonomous driving to level 3 and 4. (Level 3 is not currently legal to drive on the road. Some car manufacturers, like Tesla, currently sell vehicles with level 2 automation. Interested in learning more about the 5 levels of automated driving?)
With this announcement of progress, MicroVision is still on track to reach their April milestone, giving confidence to investors.
MicroVision also announced 4th quarter and full year results for 2020 on March 11, 2021. Earnings per share, EPS, met investor expectations for the 4th quarter, which contributed to the upward trend.
What are MicroVision's Strengths and Opportunities?
The demand for smart technology in the home and self-driving cars has increased dramatically in recent years and will continue to increase over time. MicroVision Inc. is working to address these demands and deliver value to the lives of consumers worldwide.
As has been seen during the COVID-19 pandemic, companies working to deliver an effective vaccine have seen incredible increases in their stock prices. Similarly, companies currently engaging in tech focused on automated driving, augmented reality, and other smart devices, will see an increase as development for such technology progresses.
MicroVision could continue to see growth in their stock price as they remain on track with key deadlines for product development.
What Challenges is MVIS Facing?
As is common with many tech companies, they are currently not profitable.
2020 revenue was down 65% vs 2019, though the company did cut losses from 2019 in half. They have also consistently cut current liabilities each year since 2017. Even with these improvements to net income and operating expenses, declining revenues is a concern for investors.
With the recent spike in the stock price, MVIS stock's market cap is currently 608 times company sales. This leads some investors to worry that the stock is overpriced.
One of the main challenges MVIS stock will face is rising competition in LiDAR technology, which is a core component used in autonomous driving. With any long term trend, there will almost always be competition.
Self-driving cars has been a large topic of discussion in recent years. In December of 2020, Apple even announced self-driving car production as early as 2024. Upon this announcement, two large MicroVision competitors, Velodyne and Luminar, saw a spike in their stock prices.
As MicroVision engages in the race to self-driving cars, the company that reaches the finish line first will enjoy a large first-mover advantage.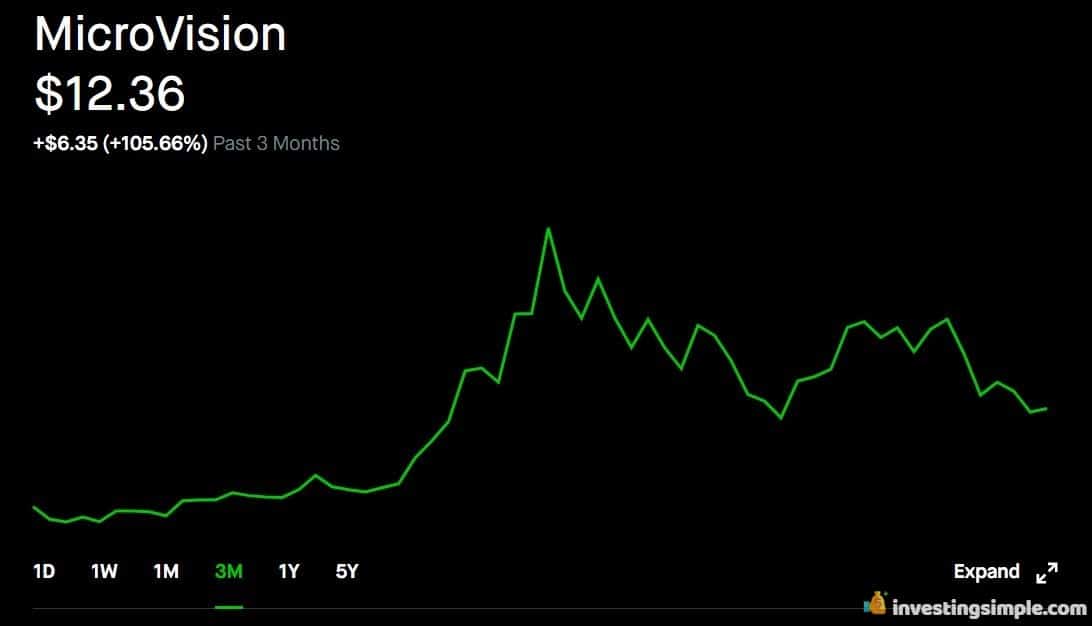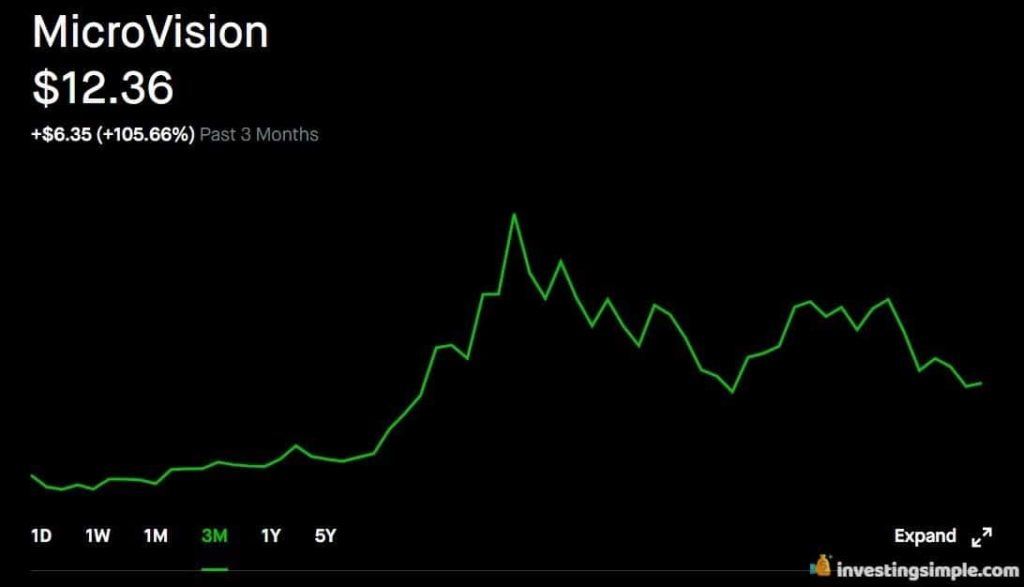 MicroVision Inc: Final Thoughts
MicroVision is currently engaged in the development of key technology that could be used for a vast number of consumer products, including self-driving cars. As demand continues to increase for such products, MicroVision Inc. and their latest technology could have more and more potential upside.
Investors interested in MicroVision Inc. should stay close to company press releases. If the company remains on track with product development, then they could continue to see growth in their stock price. However, a lapse in their timeline could hurt investor's confidence.
Start Investing Today
Investing has never been more accessible than it is today. You can quickly open a brokerage account and start investing all within 10 minutes from your personal phone! The question is, which investing app is best?
With so many to choose from, people often delay getting started, but with any investment, time is often one of the most important factors!
If you are looking to get started but are unsure how, then be sure to read How to Invest in Stocks For Beginners or check out the 10 Best Investing Books Beginners Need To Read In 2021.