While many financial experts have opposing views on money, they almost all agree that having an emergency fund is a crucial step to achieving financial stability.
Unfortunately, most Americans are not great at saving. In fact, just 39% of Americans say they could afford a $1,000 emergency. On the other hand, the average American spends $1,000 a year on lottery tickets!
It's no debate that saving money can be a challenge for many, but perhaps there is a better way to save. Prizepool is a company with a mission to make saving money fun and exciting. Keep reading for our full Prizepool review.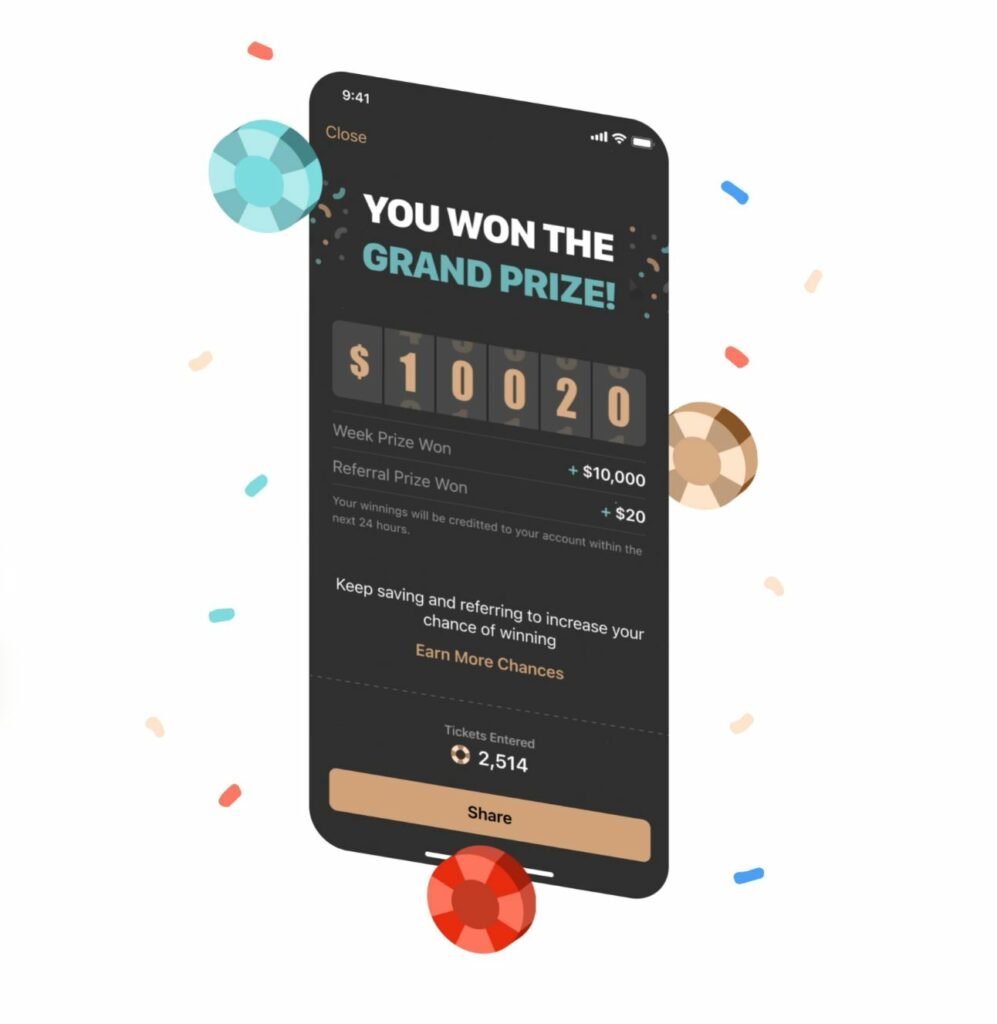 Prizepool Review: Highlights
Savings platform designed to incentivize saving money
0.30% APY
Over 4,000 prizes each week
A $10,000 grand prize every four weeks
No minimum account balance
No fees
FDIC insured up to $250,000
Summary
Prizepool is an online savings account with a twist. In addition to earning 0.30% APY, members are also automaticaly entered into a weekly raffle to win over 4,000 prizes.
Prizepool is on a mission to make saving money fun and exciting.
With no fees and no account minimum, truly anyone can get started and see their savings grow.
Pros
Over 4,000 weekly cash prizes
$10,000 grand prize every month
0.30% APY
Simple and easy to use
Cons
Platform only has a savings account
As the company becomes more popular, chances of winning a prize go down
What is Prizepool?
Prizepool is an online savings account that was launched in 2019 by Frankie Chien. The company is on a mission to make saving money fun and exciting.
"PrizePool's mission is to incentivize Americans to build a better financial foundation."
This savings account is a simple way to save and earn more than a traditional savings account. Not only do you earn higher interest than regular accounts, but you also have a chance to win prizes in their weekly drawings.
The app has a 4.5 star rating out of 1,100 reviews in the app store.
Prizepool is not a regular savings account. Instead, it is a Prize-Linked Savings Account (PLSA).
What is a Prize-Linked Savings Account?
A Prize-Linked Savings Account is a savings account that incentivizes savings through offering lottery based prizes. However, unlike the actual lottery, you do not buy tickets but are awarded tickets based on your account balance.
Thus you are automatically eligible to win prizes without having to buy a ticket. After the lottery winners are announced, the funds in your account are still yours.
The prizes are paid out from the company's earnings.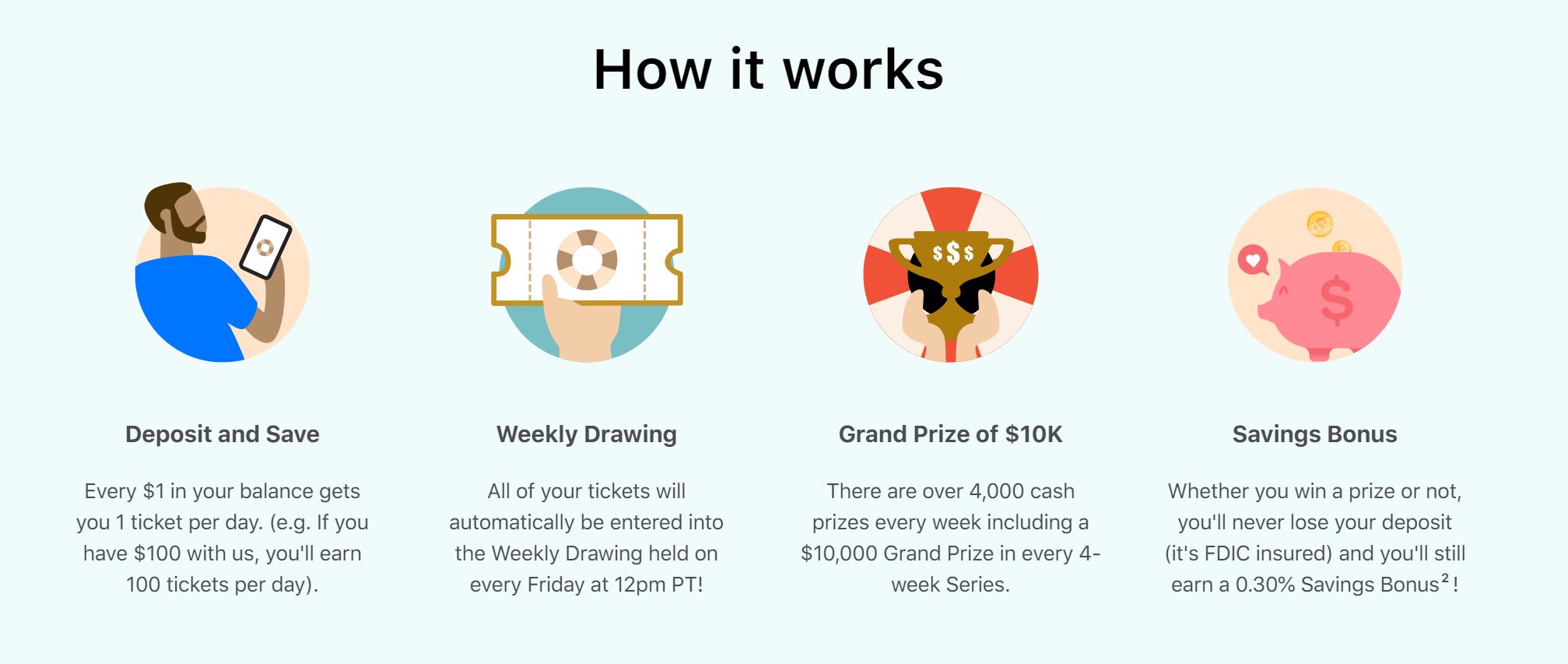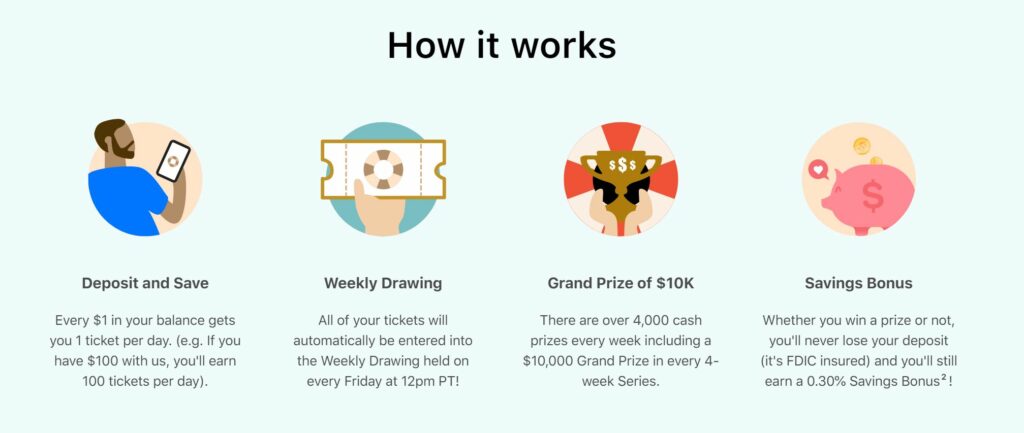 How Does Prizepool Work?
Prizepool has a simple app that you need to download in order to get started. Once you have an account and transfer your funds, you will automatically be enrolled with a chance to start winning prizes.
The company offers over 4,000 cash prizes every single week that vary in value. Every 4 weeks, they have an additional grand prize of $10,000.
Every dollar you have in your account awards you with one ticket per day. Therefore, if you have $50 in your account, you will earn 50 tickets each day.
Prizepool holds a weekly drawing every Friday at 12pm PT. If you had $50 in your Prizepool account, then you would earn 350 tickets (50 tickets per day multiplied by seven days) to be entered into the weekly drawing.
Regardless of whether or not you win a prize, your money is still your money.
Other Prizepool Features
In addition to weekly cash prizes, Prizepool also offers members a number of other features:
0.30% APY: Regardless of winning prizes, you will also earn 0.30% APY on the funds in your account. This is over 7.5 times higher than the national average for a savings account.
No Account Minimums: Many savings accounts require a minimum threshold to get started, but not with Prizepool!
No Fees: Members will not pay monthly fees, transfer fees, or any other hidden fees
Referral Program: Members can also earn more by referring their friends and family. For every referral you get, you will receive a 10% bonus of any prize they earn. And anyone that uses your referral code gets a 10% boost on their winnings. These bonuses are paid as long as you both continue using Prizepool.
Automatic Transfers: Members can set up automatic transfers to add funds to their account
How to get Started
Creating an account is very simple. It takes about 2 minutes to sign up and does not impact your credit score.
After downloading the app, you will submit your name and email and then create a password. After verifying your email, you will submit your address, phone number, and date of birth. Like any other savings account, you will also need to submit your SSN.
Verification typically takes less than 2 minutes. After your account is created, you will be able to link a bank account using Plaid and start growing your savings.
How much are the prizes? And what are my chances?
Every single week, the company raffles off over 4,000 prizes. The prizes range from $0.10 to $500. You have the chance to win one prize each week. Below you can see the number of prizes and the amount you can win each week.
$0.10 (2,390 prizes)
$0.20 (1,500 prizes)
$1 (665 prizes)
$2 (573 prizes)
$5 (496 prizes)
$10 (237 prizes)
$20 (70 prizes)
$100 (4 prizes)
$500 (1 prize)
In addition to the prizes listed above, every 4 weeks the company raffles off one $10,000 cash prize.
When in the app, you will be able to see your total ticket and the total tickets in the pool. At the time of this writing, there were over 97 million tickets in the pool. The app also shows your percentile, which tells you how many tickets you have in relation to other members. For example, if you are in the 30th percentile, that means you have more tickets than 30% of the other members.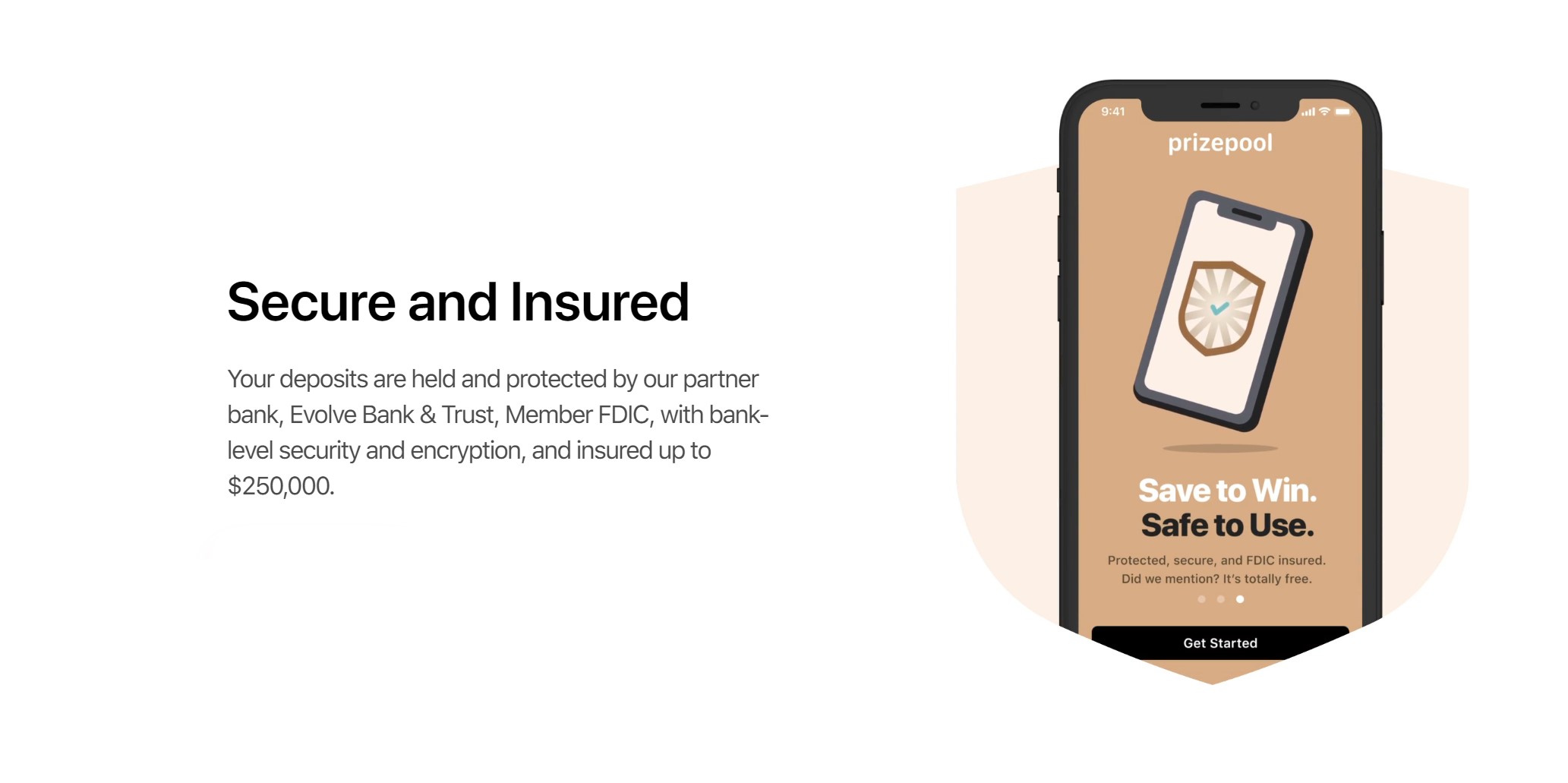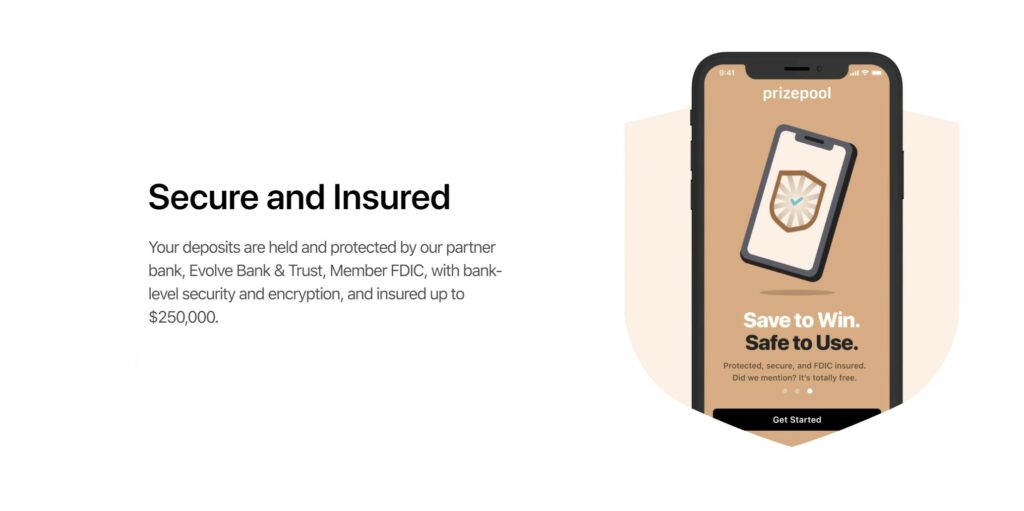 Is Prizepool Safe?
Prizepool ensures funds are protected. All deposits are secured with their partner bank, Evolve Bank & Trust, Member FDIC, with bank-level security and encryption.
Prizepool Review: Closing Thoughts
Prizepool is a great savings app that makes savings a bit more fun! It is no secret that the average American is not the best saver. With Prizepool, you are actually incentivized to save money!
With no account minimums and no fees whatsoever, opening an account is truly free. Depending on your account balance, you will earn tickets that will automatically go into a drawing each week on Fridays. The company raffles off over 4,000 prizes every single week. Even if you do not win a prize, your money is still yours. You do not lose money with Prizepool.
In addition to weekly cash prizes, you also earn 0.30% APY, which is significantly higher than the APY you can earn with the average savings account.
Signing up is incredibly easy and takes just two minutes! Check out the platform today if this Prizepool review was interesting to you!
Best Free Stock Promotions