With so many new investing and trading platforms coming to market, it can be difficult to choose which one is the best for you. Recently, a variety of trading platforms have emerged. In this article, we are going to review two of the top trading platforms available today; Stash and Webull.
Webull is a commission free trading platform that specializes in giving you access to all the market data you are looking for.
Stash is more of a hands off platform, offering portfolios and limited stocks for a monthly fee of $3 or $9.
Webull vs Stash: Summary
Webull is a commission-free trading platform offering stocks, ETFs, and options
The minimum to get started is $0 and they offer both traditional accounts and retirement accounts.
If you sign up for Webull, you get 1 free stock! Use this link.
Stash offers 3 plans starting at $1 per month for a basic taxable brokerage account, a bank account, and Stash's financial education module, Learn.
All of the benefits of the $1 plan plus an additional retirement account with Stash will run you $3 per month.
With the $9 per month plan you can get everything included in the $3 per month plan plus two  custodial accounts.
Stash offers over 3,000 ETFs and individual stocks.
Stash has no minimum investment, but watch out for the monthly fee.
Click Here For A Free Stock From Webull!
What Is Webull?
Webull is a commission free stock and ETF trading platform. This platform is designed for the active trader who is looking for a more dynamic user interface. Webull has a variety of features that benefit traders such as technical indicators, research agency ratings, financial calendars and free margin trading as well as short selling.
With easy access to margin, research tools, and live data, Webull has built an ideal platform for active traders. Check out our detailed review of Webull here.
Webull is a platform that is designed for the intermediate trader who already has some experience with the stock market. If you are a complete beginner, you might experience information overload. If you are a somewhat experienced trader, Webull will give you all of the data you will likely need.
Webull Free Stock Promotion!
If you sign up via our link below and fund your account, you will get a free stock!
Click Here To Open An Account With Webull!
Best Free Stock Promotions
Webull Features
Technical Indicators: Webull has a variety of technical indicators available on the platform. You can choose from up to 22 technical indicators such as moving averages, relative strength indexes and more.
Virtual Trading Simulator: Webull has a useful feature called the virtual trading simulator. This feature lets you create a virtual portfolio with fake money to test out strategies before risking real money. This is an ideal feature for someone just starting out, who may need to gain more investing knowledge and know how before investing real money. This gives you $1,000,000 of fake money to practice trading with, risk free.
Smart Alerts: Webull lets you set a variety of alerts for different holdings. You can be alerted when a price level is hit, or a rate of change has hit a defined level. There are also alerts for volume levels or changes, this can be useful for traders get a sense of where the stock may be headed in the short term.
Financial Calendar: The financial calendar feature keeps you informed on all the latest and upcoming financial news. Important events such as upcoming IPOs, dividend payouts, and earnings releases are all provided to you in a calendar format on the Webull platform.
Margin Trading: Webull allows margin trading on its platform to certain users. You must have a minimum account balance of $2,000 to be approved for margin trading.
After Hours Trading: Webull offers after hours and premarket trading. You can trade securities from 4 am to 8 pm Monday to Friday on the Webull platform offering more flexibility in placing trades.
Commission Free Short Selling: There are no trading commissions to short sell on Webull. Short selling occurs in a margin account, but all trades are completely free.
Fractional Shares: Purchase shares using dollar amounts and not number of whole shares. This allows investors with all income levels to invest in all of the most well-known stocks.
Who Is Webull For?
Webull is designed for active traders that focus on investment research. Webull provides an array of research tools for both the technical and fundamental investment researchers.
That being said, in most cases this platform is best for those with some prior investment experience. If you are completely new to investing in the stock market, you might be overwhelmed by the number of research tools available to you.
If you sign up via our link and fund your account, you will get a free stock!
Click Here To Open An Account With Webull!
What Is Stash?
Stash is an online trading and investing platform that aims to be simple, easy to use and low cost. You can begin investing in Stash with as little as $1.
Invest with caution, because there is a minimum fee of $1 per month to use Stash. You may want to wait until you have more cash to begin investing.
Stash allows you to invest in a variety of stocks and ETFs on their platform. Stash is not a robo-advisor and does not manage your investment account. However, they provide a platform where you can learn about investing and can help you build a diversified portfolio in order to help reduce risk with their new portfolio diversification score tool.
Once you have your account open, you will be guided through a questionnaire. Stash will ask a variety of questions to analyze your risk tolerance, investment horizon and personal preferences. Once Stash has an idea of what type of investor you are, they can offer you a variety of recommendations customized to your investment objective. You can build your own portfolio and Stash will make suggestions for which types of investments could make up the foundation of your portfolio.
Stash uses clever names and easy to understand themes for the ETFs they offer access to such as "American Innovators" "Blue Chips" and "Clean & Green."
Similar to M1 Finance and Webull, Stash offers the ability to buy fractional shares of stocks or ETFs. Investors with smaller account balances may benefit from increased diversification when utilizing fractional shares, as you will not be limited to stocks and ETFs with small dollar share values.
This feature is also available on Webull though they are relatively late to the game here.
Stash offers three plans ranging in price from $1 to $9, depending on what features you are looking for and which plan you choose.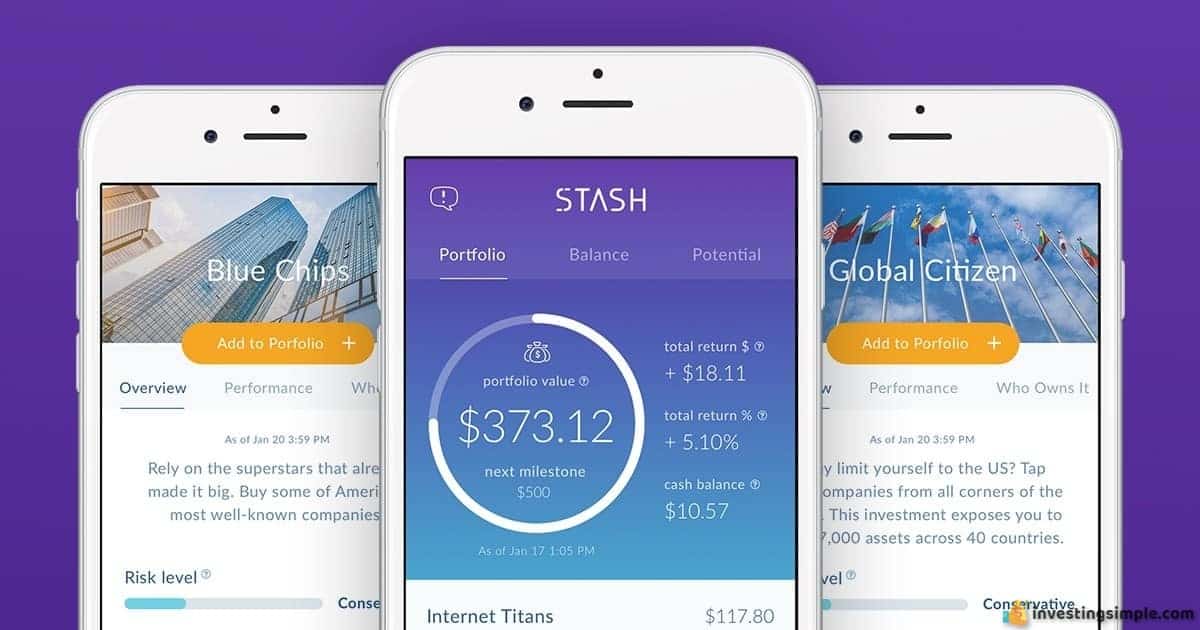 Who Is Stash For?
Stash is a suitable platform for beginner investors, but we believe the fees can outweigh the benefits.
M1 Finance offers a similar product to what Stash is offering for free. While the platform is easy to use and get started with, you may outgrow it in a short period of time. Stash is designed for mobile users who are looking to invest that have little to no prior investing experience.
In this fee free environment, it is hard to justify paying any fees to trade or manage your money.
The Verdict: Stash vs Webull
The research tools and number of investments available on Stash are relatively limited. Webull is for those who value investment research as well as free trades. That being said, a complete beginner will likely find it to be too complicated.
You will have more options for research tools and investments with Webull or M1 Finance. On top of that, these platforms are free whereas Stash is charging $1 to $9 a month. In our opinion, there are better options out there than the Stash investment platform.
Click Here To Open An Account With Webull!